Back-to-School can be hectic for everyone. Children are already missing summer and parents worrying whether their children are fully prepared for the new school year. Thankfully, Lakewood, Colo., Lodge No. 1777 put everyone's minds at ease with its back-to-school event last fall.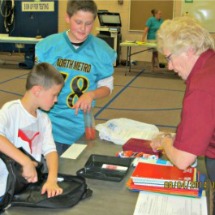 The Lodge worked closely with a local principal to plan the event. Elks set up shop, during the two-day registration, and handed out backpacks full of supplies to 134 first- and second-grade students. The principal was so impressed with the event that he called the county's Achievement Director.
"You have to come and see what the Elks are doing for our community and our school!" he exclaimed.
The Lodge used an ENF Promise Grant in conjunction with funds from its own charity account to host this event. Lodge members not only manned the two-day event but also did all of the shopping. In the end, there were multiple car loads of backpacks and supplies for the students.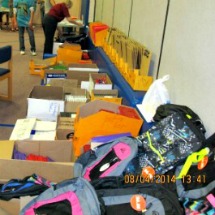 CIP Project Manager Venita Collier believes that her Lodge's commitment to youth projects drives membership and promotes the image of the Lodge in the community. When asked about the project she had nothing but positive things to say.
"This was one fantastic project," says Collier. "Trust me these kids need this."
Elks are committed to America's future. To build the character and competence of local youth, the Elks National Foundation awards $2,000 Promise Grants to the first 500 Lodges that pledge to host an eligible youth event. To find out more about Promise Grants and the Community Investments Program, visit www.elks.org/enf/community.
---
Back to top