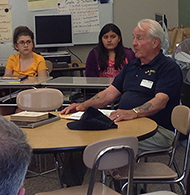 Westbrook, Conn., Lodge No. 1784 knows how to take a history lesson and turn it into a reason to tellebrate. Elks partnered with teachers to organize the Sharing Our Stories project, which matched 5th grade students with local veterans. With the help of their teachers and a storytelling expert, students learned basic journalism skills, from research to interviewing to writing a compelling story. Along the way, Elk veterans were their guides, their interviewees, their mentors and the stars of their stories.
Students then got to show off their work at a Tellebration Celebration event. The event, the culmination of weeks of hard work by the students, took place at the Lodge so student's families could attend. Students then presented their stories and shared all they'd learned about their new friends and their place in history.
Check out some of the stories written by the students below!
Enlarge this document in a new window
The Elks National Foundation helps Lodges serve their communities in significant and ongoing ways by awarding Impact Grants of up to $10,000. Any Lodge can apply for these competitive grants. To find out more about Impact Grants and the Community Investments Program, visit www.elks.org/enf/community.
---
Back to top