Some Christmas wishes are more difficult than others.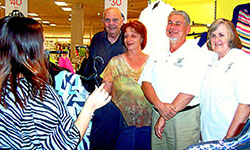 For teens living at the Marland Children's Home, a day out on the town, and a visit to the Oklahoma aquarium, was an appreciated gift.
It wasn't the first time Ponca City, Okla., Lodge No. 2002 and MCH partnered up though—the Elks also use their Community Investments Program Promise Grant each year to provide a shopping spree for the youth, who are under the care of the state. The annual spree is such a success that when the 2012-13 Beacon Grant became available, the Lodge knew just what to do with it.
Fishing for a Good Time
This day on the town came with a catch, and it's not the aquarium residents. The youth had to earn an A or B average to attend. Nineteen students rose to the challenge, and Elks rewarded them with the next best thing to a pet shark—a visit to their digs.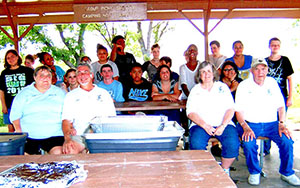 The Elks, youth and MCH staff kicked the day off with a pizza lunch before heading to the Oklahoma Aquarium. The youth received a warm welcome from the staff, who'd set up a scavenger hunt with prizes. That's not all—youth and Elks were treated to a behind-the-scenes tour and had the chance to feed the sharks! "The kids loved it," says CIP Project Manager Tom Overton. "They'd never seen anything like that. I've never seen anything like that and I'm 78 years old."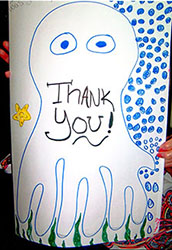 Afterwards, the kids relaxed at a nearby pool while Elks prepared a picnic. Good food, good company, and a highly competitive watermelon-seed spitting contest turned out to be the perfect way to end the day. As the group headed back to Ponca City, the youth were already planning the next outing, which the Lodge will fund with another Beacon Grant.
"They're wonderful kids," says Overton. "We wanted to put a thrill in their lives and help them out a bit. It's a great thing and we certainly appreciate the grants. We couldn't do it without the ENF."
The youth are thankful, too, and sent an oversized thank you card with personal messages for all their Elks supporters.
Through Beacon Grants, the Elks National Foundation gives Lodges the opportunity to develop an ongoing, charitable, Elks-driven community project. These $2,000 grants are available to all Lodges. To find out more about Beacon Grants and the Community Investments Program, visit www.elks.org/enf/community.