How many Elks does it take to serve 585 veterans and military families? Hint: Divide the total veterans by five, then subtract five. The answer—112!
Using an Elks National Foundation Gratitude Grant, these 112 Elks at Crestwood, Mo., Lodge No. 2503 held three events to provide food and fellowship for local military families and veterans in need.
Family Fun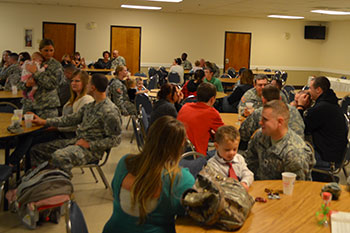 To ensure that military families had quality time together, Elks prepared a special luncheon for 279 active military members, spouses and children. Throughout the luncheon, Elks were on hand to cook, serve, socialize with guests, and lead activities for youth.
"Just lunch and family time would be enough for most children, but the Elks had one more surprise for our young guests," says Project Manager Angeline Fusco. "We presented a small gift to each child."
Staying Active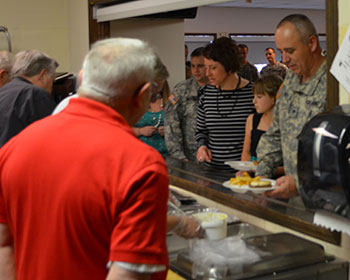 As the families left the luncheon, the Crestwood Elks knew their service wasn't quite done for the day. Elks headed back into the kitchen to prepare dinner for a group of more than 300 active military personnel.
The dinner was a time for these soldiers to begin new friendships with the Elks and celebrate the accomplishments of some old friends. After the Elks served the meal, the attendees wished the best to a group of officers who were retiring from the service that evening.
"The Elks were proud to serve a crowd of our nation's finest young men and women," says Fusco. "Overall, it was an incredible day."
Home for Heroes
After a fulfilling day of serving and thanking active members of the military, one week later, the Elks showed their gratitude to 87 veterans living in a local nursing home. Elks quickly made friends with the veteran residents and spent the day preparing lunch, playing music and singing together.
"On our second day of service, the Lodge met with the veteran residents from the local home," says Fusco. "These men and women have given their time and service to our country and deserve all we can do for them."
An Accurate Measurement
The ENF Gratitude Grant allowed the Crestwood Elks to serve many deserving veterans in their community.
"The real success of this project is not measured by the number of people served or the service of the volunteers," says Fusco, "but the memories that were created by all present."
The Elks National Foundation will help Lodges meet local needs by investing up to $8.5 million this year in Elks communities through Beacon, Gratitude, Promise and Impact Grants. These grants offer Lodges opportunities to serve the community in ways that will raise the Lodge's profile, energize the membership, encourage former members to return to the fold, and gain the notice of people who want to be part of an organization that's doing great things. To learn more about the Community Investments Program, please visit www.elks.org/enf/community.