Running the Bases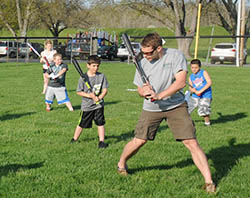 October means one thing for avid baseball fans—the playoffs. As National and American League professionals duke it out for a chance at the World Series, Elks at Freemont, Ohio Lodge No. 169 can watch knowing that their hard work this summer has helped instill a love for the game in local youth. Using an ENF Promise Grant, the Freemont Lodge ran a two day baseball camp for boys and girls ages 8 to 10.
Fielding Fundamentals
The Lodge-run clinic started with a day of fundamentals. More than 25 Elks partnered with local high school baseball coaches and their players to instruct 85 campers on hitting, fielding, running and sportsmanship. Day two of the clinic allowed the young athletes to put their new baseball knowledge to the test. The Elks rented out the local batting cages and ran a batting competition by age group. Prizes included gloves, bats and other equipment to help these young all-stars shine on the field.
Catching a Good Time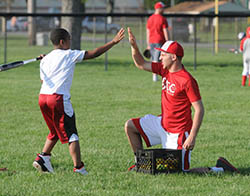 Participants gained more than just the knowledge of baseball fundamentals. The camp also offered youth a chance to meet friends with similar interests, mentor coaches and high school players. As the only baseball camp of its kind in the area, the Elks work hard every year to ensure its success. This year, members helped with registering campers and providing lunch throughout the two days as well as mentoring and training campers. Putting on the camp wasn't all hard work, though.
"The campers gained a lot of good, quality baseball knowledge, and they had a great time," says Project Manager Brad Lawrence. "I think the Elks had as much fun as the campers."
Looks like the Elks camp hit a home run!
The Elks National Foundation awards $2,000 Promise Grants to the first 500 Lodges that pledge to host an event that helps build the character and competence of local youth. To find out more about Promise Grants and the Community Investments Program, visit www.elks.org/enf/community.
---
Back to top