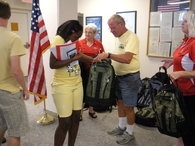 Starting off on the right foot is imperative for success down the road. Just as a good day starts with a healthy breakfast, a positive school year starts with the right supplies.
Pensacola Beach, Fla., Lodge No. 497 ensures that every child, regardless of his or her background, has a chance at a positive start. With the help of a Promise Grant, the Lodge ran an educational conference for a group of high school students in need. Through the conference at the Lodge, Elks members helped youth start the school year off right and set them up for success outside the classroom.
Expert Advice
The Lodge partnered with the FamiliesFirst Network, a local organization which aids foster children. Together, the Lodge and FamiliesFirst created a back-to-school educational conference for 40 teenagers in the foster care system.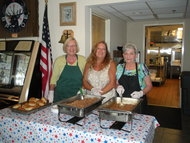 Speakers at the conference included representatives from several colleges and technical schools, who discussed educational options after high school. The event incorporated a free lunch for the kids, a drug awareness talk, and mentoring from Elks members.
Supplies for Success
At the end of the program, each child walked away with a brighter outlook for their future and backpack full of new school supplies. The students were appreciative.
"This was the first time many of these kids started the school year with the same qualify of supplies as the other students," says Hollie Bell, a Foster Services Liaison with FamiliesFirst.
More Than Just a Backpack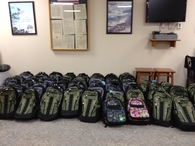 The Promise Grant allowed the Elks to actively connect with local youth and give back to those who need a positive start.
"Lodge members were enthusiastic about participating in the conference," says Project Manager Sandy Milburn. "The grant helped us to host the event and give many more supplies than through member donations alone."
The teens gained more than just new college-ruled notebooks and calculators—they gained the understanding that the Pensacola Beach Elks are invested in their future. Thanks to an emphasis on education and little help from the Promise Grant, it's a future that looks brighter already.
Through Promise Grants, the Elks National Foundation gives Lodges the opportunity to develop a youth project. These $2,000 grants are available to the first 500 Lodges that apply with a qualifying program. To find out more about Promise Grants and the Community Investments Program, please visit www.elks.org/enf/community.