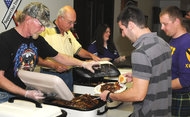 It's a familiar scene on any college campus—music blaring, food grilling, groups of students having fun. This particular get together, however, is a little different. It takes place at Macomb, Ill., Lodge No., 1009 and involves students from nearby Western Illinois University who have served in the military.
With the help of its Beacon Grant, the Macomb Lodge was able to hold an event for the student veterans at WIU. An invitation was extended to each of WIU's 700 student veterans. The Lodge created this new event to offer the students a place to socialize, relax, and learn from each other and the Elks.
Post-Game Fun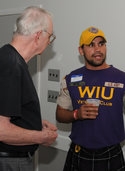 Elks shuttled the students to and from the Lodge, providing their guests a safe, easy way to get back home.
"The Macomb Lodge has been serving vets for countless years," says Project Manager Steve Yeast. "We've done a lot for the veterans that live at various retirement centers in Macomb. Who knew how significant the need was for mentoring young student veterans right here in our own backyard?"
Engaging Elks, New and Old
The event engaged the entire Lodge, with more than 65 Elks helping to plan and run the event, most of whom who had also served in the military.
Thanks to the event, the Lodge keeps growing. It has gained 14 new members, including two student veterans, one of whom has already been initiated as a Lodge Inner Guard.
An Enduring Relationship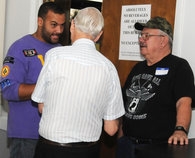 Bringing the Lodge and the students together created positive effects that have already extended beyond a single social event.
Local veterans attending expressed an interest in collaborating with the Elks on future projects to help student veterans adjust to civilian life, as well as addressing other problems facing student veterans like depression and Post-Traumatic Stress Disorder.
"This one event has opened the door to so many possibilities," says Yeast. "We have the opportunity to engage in continual dialogue with WIU veterans. We hope to identify other needs that the Lodge can address to help these veterans and their families in the future."
Through Beacon Grants, the Elks National Foundation gives Lodges the opportunity to develop a new, ongoing, charitable, Elks-driven community project. These $2,000 grants are available to all Lodges. To find out more about Beacon Grants and the Community Investments Program, please visit www.elks.org/enf/community.