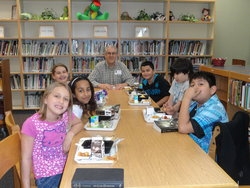 As many bookworms know, a good read is a ticket to adventure. The bookworms at New Albany, Ind., Lodge No. 270 recently helped a group of local elementary school students realize the power of reading. Using an Elks National Foundation Beacon Grant, the Lodge partnered with S. Ellen Jones Elementary School and started a spring reading program with fourth grade students in their community.
Book Buddies
Once a week, Elks and students came together in the library at lunch time to read and discuss a book. In all, 30 fourth graders participated in the half-hour reading sessions.
"Elk members selected books based on student interest," says Project Manager Stephen Scott. "Sessions varied based on the length of the book, and a total of 10 different books were read and discussed."
Readers for Life
At the end of the program, the Elks gave the books to the school for other students to enjoy. The Elks' commitment to encouraging students to read did not go unnoticed. Teachers and administrators loved having the Elks in the school volunteering.
"It was so much fun to see the students with their reading buddies during their time together," says school Principal Terri Boutin. "Our purpose was to get children excited about reading for fun—and I believe that the Elks have certainly met that goal with this grant program."
Let the Adventure Begin!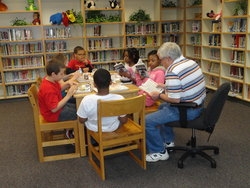 Students and Elks alike look forward to continuing the program next year. Weekly sessions are slated to begin once the school year starts.
Getting kids to put down the i-Pad and pick up a book is no small task. But thanks to encouragement from the Elks, more students in New Albany are punching their ticket for adventures through reading.
Through Beacon Grants, the Elks National Foundation gives Lodges the opportunity to develop a new, ongoing, charitable, Elks-driven community project. These $2,000 grants are available to all Lodges. To find out more about Beacon Grants and the Community Investments Program, please visit www.elks.org/enf/community.