Ron Sharrah joined the Elks for a simple reason-- to be a part of something bigger than himself. Seventeen years and countless Lodge projects later, Sharrah has harnessed the Lodge's potential to be a platform for charitable works in the community. As March's CIP Superstar, Sharrah's passion for the Elks and utilization of Community Investments Program grants make him a stand-out at Sweet Home, Ore., Lodge No. 1972.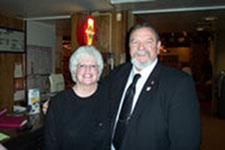 Sharrah was the first in his Lodge to volunteer to run an ENF Gratitude Grant project. To him, CIP grants offered the perfect opportunity to serve the community.
"We were falling short of our charitable mission and people didn't know we existed," says Sharrah. "To our community, we were just a private club on the top of the hill."
Building Strong Relationships
His first attempt to engage local charitable organizations did not go as expected. Sharrah reached out to a number of organizations. No one responded.
This experience forced Sharrah to change his method. Now, any time he approaches an organization to actively partner with, he makes it a point to do research up front, and pinpoints the local needs the Lodge can help fill.
"Partnering with others is a two-way street," says Sharrah. "Every time we meet with a potential partner, we ask what they can do for us as well."
Back-to-School Success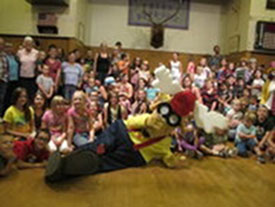 Now, with the help of CIP grants and the strong partnerships he has built in the community, Sharrah runs multiple charitable projects throughout the year. One of the most popular projects is the Lodge's back-to-school supply fair. Using a Promise Grant and Beacon Grant this year, the Lodge was able to help 250 kids get much needed school supplies. The fair included lunch and fun activities for the students, as well as a visit from Elroy the Elk.
"Kids go to school without things like shoes and backpacks, and the schools aren't providing them," says Sharrah. "The Promise Grant and the Elks have stepped in to fill this need."
CIP Grants in Action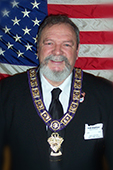 The Lodge has also used CIP grants to help run a living skills program for teen mothers and to provide swim lessons to kids in need. Over the years, the Lodge has gained almost 20 new members through its charitable partnerships.
To Sharrah, being an Elk means doing things for the good of the community and the good of the Lodge. Thanks to this attitude, Sweet Home, Ore., is home sweet home to one active Elks Lodge.
The Elks National Foundation will help Lodges meet local needs by investing up to $6.5 million this year in Elks communities through Beacon, Gratitude, Promise and Impact Grants. These grants offer Lodges an opportunity to serve the community in ways that will raise the Lodge's profile, energize the membership, encourage former members to return to the fold, and gain the notice of people who want to be part of an organization that's doing great things. To learn more about the Community Investments Program, please visit www.elks.org/enf/community.