Cahaba Valley, Ala., Lodge No. 1738
involved nearly half of the Lodge as volunteers in its project this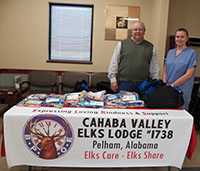 past year. Elks provided care and comfort kits to thousands of dialysis patients, and visited them often to keep up their spirits. Their generosity and friendship does not go unnoticed, and the Elks receive great feedback from patients, doctors, nurses and families.
"I always look forward to your visits," writes one patient. "The Elks project is a blessing, and the gifts are appreciated."
Huntsville, Ala., Lodge No. 1648 helps students studying science and math see the practical application of their lessons. Elks partner with a local high school and help students put their skills to use by coaching the Robotics Team, giving career presentations and acting as mentors. Elks also kick off each school year by holding a Lodge open house for the program, which attracts hundreds of potential students for the ever-increasing program.
Marion County, Ala., Lodge No. 2684 made a difficult time easier for many community members undergoing medical treatment. The Lodge distributed care and comfort kits to more than a hundred dialysis patients, providing them with medical supplies and items such as blankets, socks, hand sanitizer and more to help with treatment.
"We appreciate the Elks thinking about our patients and getting these kits together," says Clinic Director Michelle Payne.
Mountain Home, Ark., Lodge No.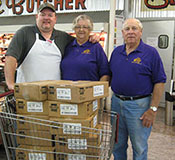 1714 fights hunger in the community, day after day. Elks partnered with the local food bank to provide as much food as possible to struggling families each month. By partnering with local butchers, farmers and community organizations, Elks provided nearly 10,000 pounds of food to people in need in 2012.
Mesa-Buckhorn, Ariz., Lodge No. 2656 knows that reading is more fun with a buddy. Elks partnered with a local school to purchase nearly 500 books for the local library. The Elks didn't stop there though—they then partnered with teachers to start a reading program and worked with students in need to improve their literacy and foster a love of reading. Thanks to the program, teachers noticed a marked improvement in students' attitudes and reading abilities.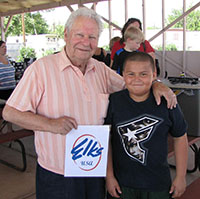 Sierra Vista, Ariz., Lodge No. 2065 works to give local children in need access to the same resources as their peers. The Lodge solicits donations of old computer equipment from businesses and community members to repair and give to underprivileged children. The Lodge provided computers to 100 children last year alone.
Green Valley, Ariz., Lodge No. 2592 offered resources for 250 children at a local school, so they could better focus on learning. Elks provided gym shoes for each child and kicked off the school year with a new backpack full of supplies. The Lodge stayed involved year-round by providing snack packs for youth once a month, purchasing books and helping with a reading program at the school.
"Thank you so much for the shoes," writes one student. "I wear them every day and they are pretty cool. My old ones didn't fit. My family does not have a lot of money and we do not go shopping much."
Livermore-Pleasanton, Calif., Lodge No. 2117 reached out to local military members serving overseas. Elks identified local units and mailed care packages to 144 soldiers. The box of supplies and treats from home were much appreciated.
"It is hard to explain how much these packages help us," writes Captain Steven E. Thomas. "We need the support and the connection from home. Thank you."
Santa Barbara, Calif., Lodge No. 613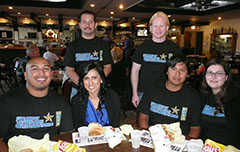 gives local veterans something they can count on. Once a month, the Lodge hosts a lunch and information session for veterans from all walks of life. The vets are treated to information about benefits, transitional programs, resources, job training and more. They also receive a nutritious lunch and access to a community that welcomes them and understands their challenges. Veterans and their families are also invited to each Lodge event. The Lodge also has support programs for homeless and transitioning veterans, and for recently returned veterans attending college nearby.
Vacaville, Calif., Lodge No. 2638 reached out to local seniors and their families. Elks partnered with the local senior center to prepare and provide meals for seniors in need, provide transportation to doctor's appointments, and assist the center in running healthy activities. Thanks to the Elks' support, the center was able to expand its services to more seniors in need.
Littleton, Colo., Lodge No. 1650 reaches out to children of military members to make their lives a little easier. Elks run Cowboys for Kids, camp just for military children. Though delayed by wildfires in the region, Elks held four camps this summer where children learned to ride horses, played games, spent time with children in the same situation, and found new friends in the Elks.
"This is an extremely important cause," writes camp support Col. Mark S. Woempner. "As a former battalion commander, I know personally the trials and tribulations imposed upon our servicemen and women's families. Thank you, Elks."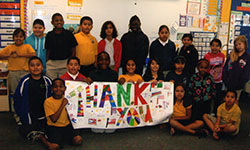 Bradenton, Fla., Lodge No. 1511 helps 475 children each weekend by providing them with backpacks full of food to take home on Fridays. Elks spend hundreds of hours shopping, packing and distributing the packs each week, along with planning regular fundraisers to keep the project growing. A grateful community has taken notice, and the Lodge has been honored by the schools and the city, and been named a "Hometown Hero" by two local TV stations.
"Thank you for supporting us with food," writes one child. "When you guys give us food, our family is not hungry anymore. That's very nice of you."
Cocoa Beach, Fla., Lodge No. 2387 supports homeless veterans looking to get back on their feet. The Lodge runs a support program for veterans at a local transitional facility, which has served 80 veterans this past year as they transition into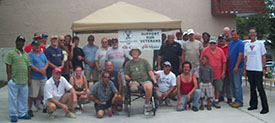 their own homes. Elks hold monthly events; invite veterans to Elks events; and provide clean clothes, hygiene supplies and other necessities.
"Thank you for being a great help to us, and making me feel a part of something," one grateful veteran writes.
Ocala, Fla., Lodge No. 286 knows that service to our country deserves service in turn. Elks provided healthy, homemade meals to 10 homeless and homebound veterans each week. The Lodge partnered with Veterans Helping Veterans to reach out to veterans in need.
"The gift you give is not only the food you provide but also the company, camaraderie and compassion that you show toward our most needy veterans," writes Henry Whittier of Vets Helping Vets. "Thank you, Elks."
St. Augustine, Fla., Lodge No. 829 helps kids get fit and have fun. Elks partner with a local youth group to run 10-week fitness programs for underprivileged children. Elks help lead exercises, play games, and teach sessions on making healthy choices. The Lodge expanded the program this year to also include a 3K, and a fitness program for children staying at a local homeless shelter.
West Palm Beach, Fla., Lodge No. 1352 spent the year hard at work in the garden, and is now enjoying the fruits and vegetables of this labor. Elks partnered with a local community center to build two community gardens to help feed those in need. Thanks to the sunny Florida weather, the garden produces fresh fruit and vegetables year round. The produce is all sent to local food pantries. Much of it goes right to the community center next door, where it provides daily meals for as many as 200 grateful people each week. The community has stepped up to help out with the successful project, and both church groups and homeless patrons help with much of the garden maintenance.
Cartersville, Ga., Lodge No. 1969 to the rescue! To the women and children staying at the Safe Haven Crisis Shelter, Elks have been superheroes. The Lodge used its Impact Grant to provide emergency supplies for the recently arrived, and for those on their way out of the shelter. Elks also held events for the children at the shelter, and helped to renovate the children's room, the outdoor area and the security system.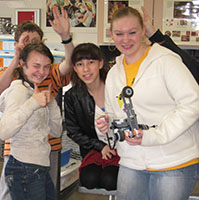 Saint Mairies, Idaho, Lodge No. 1418 gives youth in its small community a safe, fun place to go after school. The Lodge runs weekly cooking classes, assists with the Lego Robotics Team, and even started a youth bowling team.
"The Elks/ 4H after-school program is wonderful," writes one parent. "How awesome that this program is available for students! It was a great learning experience. My son enjoyed the program, and enhanced his skills and his education."
Sandpoint, Idaho, Lodge No. 1376 ran the most popular summer camp in town the past year–the Elks Junior Golf Program. Elks taught 74 youth the basics of golf, the importance of sportsmanship, and spread the message of drug awareness message during the camp. A local parent was so thrilled she wrote a letter to the newspaper.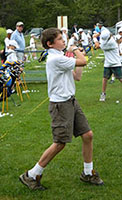 "Three cheers for the Elks," Lisa Hooper writes. "Both of my kids took part in the golf clinic. The volunteers were terrific, sharing their knowledge of golf and spreading the message about staying away from drugs. Thank you."
Mount Vernon, Ill., Lodge No. 819 partnered with many local groups to build a homeless shelter and community center this past year. Elks spent hundreds of hours building, plumbing, and renovating but their big accomplishment was the establishment of the Education and Technology Center at the shelter. Now that the center is up and running, their work has just begun. Elks regularly volunteer at the center to tutor students, assist adults with job searches and more. The center has just opened and has already served 50 people.
Bicknell, Ind., Lodge No. 1421 helped more than 200 local students start the school year fully prepared with school supplies. Elks organized a back-to-school mall for underprivileged youth in the community. The Lodge partnered with local schools and teachers to ensure they had all the needed supplies. Students simply had to show up, and walk through the mall to gather everything on their class list. Next item on the list: first day of school.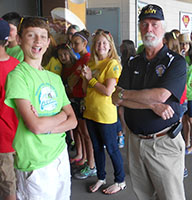 Highland, Ind., Lodge No. 981partnered with the local police to hold a summer camp for youth at risk of getting involved with gangs. The two-week camp was a hit with the 80 local children who attended, many of whom asked if their friends could join. Campers played team-building games, volunteered in the community, attended baseball games with local police, and more. For the children, the camp was a time to make friends with youth from different communities, form relationships with local police, and feel a sense of accomplishment for giving back to the community.
Linton, Ind., Lodge No. 866 ensured that all children in the community had a place to play. Elks partnered with the city to install new, accessible playground equipment at a local park, so that children with disabilities could join in.
"We really appreciate what the Elks do," says Linton Mayor John Wilkes. "This is a great addition to the park. The Elks are an asset to have here."
Houma, La., Lodge No. 1193 spreads the lessons of Red Ribbon Week all year round. The Lodge partnered with local drug awareness groups to hold a TeamSpirit Leadership conference for 79 high school students. Students learned the dangers of drugs, how to identify problems and connect with peers, and help each other make healthy choices.
"Thank you Elks for all the help you've given with this camp," writes Brian, one of the youth counselors. "This camp means a lot to me and my life. I truly appreciate you."
Escanaba, Mich., Lodge No. 354 ensures that children and adults with disabilities have equal social opportunities. The Lodge partners with the Special Olympics, local schools and other community organizations to provide bi-monthly events like holiday celebrations, sports practices, graduation parties and more. These events increase social opportunities and access to the community for hundreds of people with disabilities.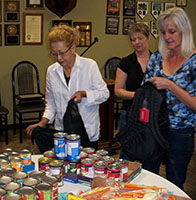 Columbia, Mo., Lodge No. 594 made sure youth in need had one less thing to worry about at school: hunger. Elks purchased, packed and delivered backpacks full of food to 73 students in need each week. Thanks to the Elks' efforts, the school has reported fewer school absences and high academic achievements.
Tahoe/ Douglas, Nev., Lodge No. 2670 stays calm in a crisis and is always prepared. Elks run a supply pantry at a local crisis shelter, ensuring food and supplies are always on hand. Elks also prepare lunches for the residents, distribute food baskets twice a month, and hold support events for the women and children at the shelter. They also collect clothing, supplies and games for the shelter residents.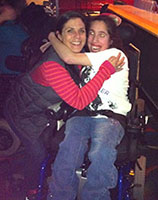 Mid-Westchester, N.Y., Lodge No. 535 knows that all teens are the same, including teens with Cerebral Palsy and other disabilities. The Elks run a social group that allows the teens to spend time with their friends and get out into the community. Elks take the teens to the movies, baseball games, pizza parties and more. The popular group currently serves 15 teens, and has a waiting list of teens eager to join.
"This group has changed my daughter's life," write a thankful parent. "She feels accepted, loves her friends from the group, and loves being able to go different places on her own. The Elks have filled a big void in her life."
Colonie, N.Y., Lodge No. 2192 knows the value of a good party. For local people with disabilities, the monthly events at the Lodge are much more than that —they offer a rare chance to gather with friends, celebrate and feel accepted. From Mardi Gras parties to Elvis nights to Halloween bashes, the Lodge pulls out all the stops to ensure the more than 250 guests have a great time.
"The project means the world to the Elks who volunteer," says Project Manager Doug Williams.
Findlay, Ohio, Lodge No. 75 made their hometown a more beautiful place with cleaner air. Lodge members partnered with the city to plant nearly 200 trees in the community, replacing many lost to flooding, storms and pests. Elks held a community education program, teaching community members and students about Arbor Day, and how to care for the environment all year.
"We think it is awesome that you are planting trees in Findlay," writes a class of local students. "We are grateful that the Elks chose our school to receive a tree. Many thanks!"
Burns, Ore., Lodge No. 1680 knows that hunger is an ongoing problem. The Lodge holds one meal every month for anyone who needs it—families struggling to make ends meet, the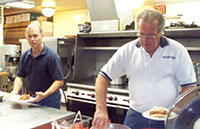 unemployed, seniors in need, and those who know the value of good company. Hundreds of people in this frontier town come out each month to attend the Elks' meals. Lodge members even make house calls, providing transportation to homebound community members.
Coos Bay, Ore., Lodge No. 1160 provides kids the nutrition they need to focus on more appropriate things, like school, sports and playing with friends. The Lodge runs a weekend backpack program at a local school, purchasing, packing and providing backpacks full of weekend meals for 80 children each week. The Lodge also partners with a larger community group to help pack more than 700 more backpacks each week.
"The community has embraced the project and the work that the Elks do," says Project Manager Sharon Kolkhorst. "And we are taking pride in being Elks."
Hillsboro, Ore., Lodge No. 1862 is there for veterans down on their luck. The Lodge runs a support program at Lacey's House for Homeless Veterans, which is run by a Lodge member. Elks provide supplies and support services for the 16 veterans staying at the house, as well as those who visit the home's Veterans Resource Center. The Lodge also collects and distributes food, cold weather clothing, hygiene kits and shoes to hundreds more veterans in the community.
Erie, Pa., Lodge No. 67 reaches out to children with autism to help them conquer their fears. Elks partner with Therapy Dogs United to partner each child with a dog, and then help the team through a seven week training program.
Bristol County, R.I., Lodge No. 1860 knows there's power in partnerships. The Lodge works with local churches, food banks and service organizations to provide food to thousands of people in need in the community. Elks also held nutritional cooking classes at a local food pantry, and distributed clothing and other supplies. The Lodge's fundraisers, partnerships and public support have allowed the program to donate more than $80,000 worth of food to people in need this year.
"We are extremely grateful," writes Food Pantry Director Anita Randall. "Your efforts are making a real difference in our community."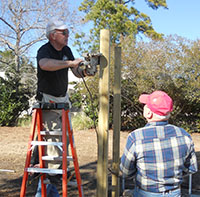 Murrells Inlet, S.C., Lodge No. 2797 partnered with three local schools and community centers to start gardening programs for people with disabilities. Elks built accessible greenhouses and garden beds at each location. Elks then stuck around to plant and hold weekly gardening programs. Elks also teach the center's horticultural therapy programs each week, and used the garden's produce to help community members in need and encourage healthy choices.
"By learning valuable skills such as teamwork and responsibility, individuals in this program are able to demonstrate that they are valuable members of the community," writes a center staff member. "With the assistance of the Elks, they learn how to lift themselves up, which in turn lifts up the community."
Fayatteville, Tenn., Lodge No. 1792 partners with local police to run a mentoring program for juvenile offenders. After the youth attend police-run summer camp, Elks begin a year-long mentoring program to help the youth stay on track. Elks mentor each child individually and the Elks as a group alternate educational field trips with community service projects. These projects are popular not only with the youth but also with the community—local police, the National Guard and local judges sometimes join in.
"The project has become the heartbeat of the Lodge," says Project Manager Mike Chandler. "We consider it an honor to run this project."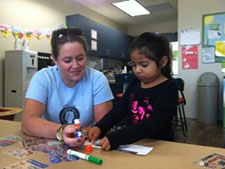 Austin, Texas., Lodge No. 201 made a difficult time easier for hundreds of families with children undergoing cancer treatment. The Lodge ran a support program for these youth, and held regular events for the children. Elks also provided support for the families, and raised awareness about the challenges these families face.
Cleburne, Tex., Lodge No. 811 is there for the community in times of crisis. Every day, Elks provide a meal and snack to the women and children staying at a local crisis center. The Elks have provided more than 4,500 meals and snacks to the center's clients this past year. It's more than a meal, though.
"Clients realize that people in the community care about them, and it helps them recover," says Project Manager Sharen Rotenberry. "The most important part of this project is fellowship.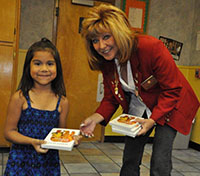 Irving, Texas., Lodge No. 2334 loves to read, and is spreading that love to local children. Elks partnered with a local youth organization to start a mentoring program for underprivileged kids. Volunteers meet with the youth each week to read a book together. Elks also play games and help the students with homework.
"We've seen tremendous progress in the behavior and learning of the kids that the Elks have worked with," says the center's director.
St. George 'Dixie,' Utah, Lodge No. 1743 ensures that students a local alternative high school have all the supplies they need to succeed. Elks stock and manage a supply pantry at the school where students in need can access everything from fresh food, cooking supplies, clothes, bus passes, backpacks and more. The Lodge makes a special effort to reach out to homeless and independent students, as well as young mothers attending the school. Since the project started, the graduation rate at the school has increased almost 25 percent.
"Thank you for everything," one student writes. "I'm so thankful that you are here, and so very grateful for the food, supplies and support you give."
Onancock, Va., Lodge No. 1766 helps local food pantry clients eat healthfully. Elks partner with the pantry to run a produce project, which greatly increased the amount of fresh food available to clients. Through partnerships and careful shopping, Elks were able to provide more than 60,000 pounds of oranges, apples, cabbage, onions, potatoes and more to pantry clients. The project has been such a hit that the pantry and the Elks are now starting a garden to ensure that produce stays on the menu.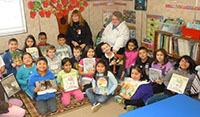 Everett, Wash., Lodge No. 479 partners with local schools to start a book club and pen pal program. Seventy-five Elks and other volunteers were matched with young students learning English as a second language. Volunteers spent hundreds of hours reading together, writing letters and attending events.
"Teachers and principals were thrilled with the program," says Project Manager Linda Averill. "Members who participated were very enthusiastic."
Fond du Lac, Wis., Lodge No. 57 helps at-risk teenagers get back on track and find healthy outlets for their feelings. Elks run Open Art Studio for teens in the community and in the local juvenile intake program. Youth spend time with Elks and attend weekly sessions taught by prominent regional artists. The program has expanded, thanks to partnerships with an art studio, a local university and other community youth programs. The program energized the Lodge and has an even bigger impact on the youth.
"The kids are eager, and they treasure their art projects," writes Lt. Linda Schmitz, the Juvenile Superintendent. "This has been a wonderful opportunity for Elks members to make a difference and for the kids to see community members who care."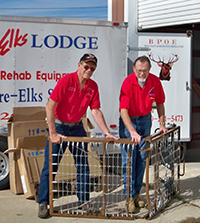 Watertown, Wis., Lodge No. 666 knows that recovering from a health problem is difficult. The Lodge makes it easier for community members by loaning medical equipment for free, making the cost of recovery easier to bear. The Lodge cleans, stores, repairs and delivers equipment such as wheelchairs, hospital beds, chair lifts and more. Over the past year, Elks have provided equipment to 72 people, saving them a collective $18,300 in rental fees.
Lewisburg, W.V., Lodge No. 1758 runs supply pantries for underprivileged students at six local schools. Elks stock the pantries with hygiene supplies, snacks, clothes and other necessities. Elks are at the school every day, working with students and helping to meet their needs. Through partnerships and donations, Elks helped more than 1200 students and their families this past year.
"I can't say enough about how great it is having the Elks involved with our students," writes school nurse Paula McCoy. "The pantry has blessed our students by helping them to maintain their dignity through improved personal hygiene and clean clothes."
Wheeling, W.V., Lodge No. 28 knows that soup kitchens aren't always the most welcoming places for youth. To make kids feel welcome and encourage family time, Elks run Just for Kids at a local soup kitchen. Each Wednesday, Elks prepare and serve a meal at the kitchen. They encourage families to attend together to play games and and do homework. They also plan educational activities for kids, such as presentations from local museum staff, artists and college sports teams. The Elks are proud to have served hundreds of meals this past year to children and parents.
"Over the years, this project has taken on a very important significance to our Lodge," says Project Manager Jeff Miller. "You cannot even begin to imagine how much it means."
The Elks National Foundation helps Lodges serve their communities in significant and ongoing ways by awarding Impact Grants of up to $10,000. Any Lodge can apply for these competitive grants. To find out more about Impact Grants and the Community Investments Program, visit www.elks.org/enf/community.