When the ENF created the Grants Coordinator position last year, Mike Mongeluzzo of Ocala, Fla., Lodge No. 286 knew he was the man for the job. Mongeluzzo has been using ENF Grants to serve his Lodge's community since 2005, and in 2012-13, he helped his Lodge receive more than $13,000 in ENF Grants.
Never Forget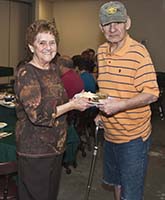 The largest project the Lodge runs is Feeding the Heroes Impact Grant project, for which Mike is the Project Manager. Elks come together to prepare, package and deliver 15 meals each week to homeless and homebound veterans.
Mike says of the project's inspiration, "As Vietnam veterans, my friends and I always talked about veterans that are discharged and fall through the cracks, veterans that need help."
The Lodge partners with the organization Vets helping Vets to identify those most in need. The project has come to offer more than simply meals—it offers friendship. For many veterans, Elks are one of their few visitors each week.
A Promise to Youth
The Lodge also combined its Beacon Grant and Promise Grant to reach out to homeless youth at Christmas. The Lodge held a party at Arnette House, a local youth shelter. Elks took 30 children from the shelter shopping for Christmas gifts, followed by a party at the Lodge. The event was a big hit, and the Lodge plans to continue the tradition next year.
Thanks to the event, the Lodge even gained a new member—Mrs. Arnette herself. And she's not the only one.
"Because of the ENF Grants, we will have an increase in membership next year," Mongelluzzo says. "The response is overwhelming. People know now that we do good things for the community, and that's important."
Come One, Come All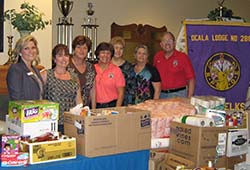 The Lodge has taken its increased community profile and put it to good use. Using an ENF Gratitude Grant, the Lodge recently threw a house-warming party for the local crisis center. Elks invited community members to the Lodge for a free lunch and a good time on one condition—the entrance fee was much-needed supplies for the center.
All the goodwill has added benefits to the Ocala Elks.
"When we talk about ENF grants and what we are doing in the community," Mongeluzzo says, "it brings pride to the members of the Lodge."
The Elks National Foundation will help Lodges meet local needs by investing up to $6.5 million this year in Elks communities through Beacon, Gratitude, Promise and Impact Grants. These grants offer Lodges an opportunity to serve the community in ways that will raise the Lodge's profile, energize the membership, encourage former members to return to the fold, and gain the notice of people who want to be part of an organization that's doing great things. To learn more about the Community Investments Program, please visit www.elks.org/enf/community.