"Set your load down for one day and join us," reads the flier for the Lane County Veterans Stand Down. And 539 veterans showed up and did just that.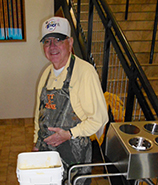 The Elks of Eugene, Ore., Lodge No. 357, however, were at full attention. Charged with providing meals for the attendees, 34 Elks arrived bright, early and eager to volunteer. The Stand Down provides medical care, employment opportunities, housing programs, supplies and much more to homeless veterans, military members and their families.
Using an ENF Gratitude Grant, the Lodge served more than 800 meals that day. To be extra sure no one went hungry, they also brought plenty of pie and coffee. "Helping homeless veterans is everyone's responsibility," says Lodge member Raymond Stice. "The success of this grant is simply being able to contribute to their welfare."
The Lodge has been volunteering at the Stand Down for the past 11 years. There's no time for them to set their load down though—they're already planning for next year's Stand Down.
The Elks National Foundation helps Lodges serve their communities by offering $2,000 Gratitude Grants. Lodges are eligible to apply for Gratitude Grants after meeting the National President's per-capita goal for Foundation giving. To find out more about Gratitude Grants and the Community Investments Program, visit www.elks.org/enf/community.
---
Back to top