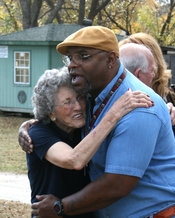 Next time you're in Texas, bring your dancing shoes. Garland, Texas, Lodge No. 1984 knows how to pack the dance floor. The Lodge used an ENF Beacon Grant to host 64 hospitalized veterans from the Dallas VA Hospital for a night of dancing and fun. Throughout the evening, veterans and Elks alike busted a move on the dance floor, tried their luck at horseshoes, and crooned like Sinatra during karaoke. Elvis himself even made an appearance.
Precise Planning
The Lodge built upon its already strong relationship with the VA Hospital to get the event off the ground. By reaching out to hospitalized veterans during monthly bingo visits, it was easy for the Lodge to recruit interested guests.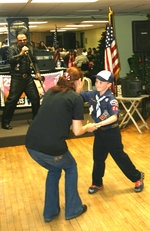 A brand new project for the Lodge, Elks planned ahead to guarantee it was a success. The Lodge appointed a committee to run the event, and recruited volunteers through Lodge newsletter and word of mouth. All told, 40 Elks put in dozens of hours to ensure the project went off without a hitch.
Forging Friendships
In addition to the Elks, 42 Cub Scouts were on hand to offer invaluable help running a Flag ceremony, filling coffee cups, and fixing plates of food for the veterans. The scouts joined in the fun as well—many scouts danced the night away on dance floor and tossed horseshoes with the veterans.
"The Elks formed friendships with the veterans, scouts and wounded warriors," says Project Manager Cathy Leslie.
Not Just a Dance Party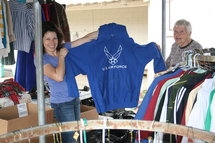 The event also included a clothing and supply drive for the veterans. Prior to the event, Elks collected hundreds of bags of clothes, shoes, books and toiletries for the veterans to take back to the VA hospital.
"We gained seven new members as a result of fellowship and networking at the event," says Leslie. "We're planning at least four get-togethers like this in the coming year."
The veterans might have danced into the early morning if given the chance. After six hours, guests still did not want to leave. But with more events on the horizon, veterans left knowing there is plenty of dancing ahead thanks to the Elks.
Through Beacon Grants, the Elks National Foundation gives Lodges the opportunity to develop an ongoing, charitable, Elks-driven community project. These $1,000 grants are available to all Lodges. To find out more about Beacon Grants and the Community Investments Program, please visit www.elks.org/enf/community.