Service Before Self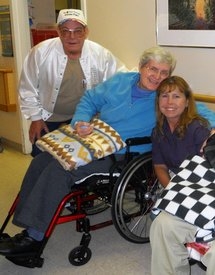 For Tammy Sturgill, being an Elk is a family affair. Her father, a member for 35 years, got her involved with weekly dinners at the Livermore-Pleasanton, Calif., Lodge No. 2117 at an early age. Sturgill's dedication to the Lodge is shared by every member of her family. All are Elks—except her son, who at 18 is not yet old enough to join.
The Lodge's family friendly atmosphere, coupled with service opportunities that unite young and old, keeps Sturgill coming back.
A CIP Superstar from the Start
To Sturgill, "service before self" isn't just a catchy phrase. It is a mission statement that she takes seriously. Sturgill was the first to step up when Community Investments Program grants became available in 2005. Armed with a $200 Gratitude Grant, she ran a literacy project at a local school.
Now, Sturgill helps her Lodge take advantage of every grant opportunity. She has run a back-to-school supply fair for kids, a blanket drive for veterans, and a Christmas event for those in need.
Encouraging Others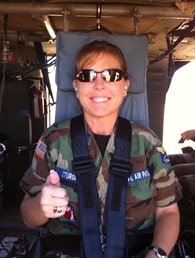 More projects mean the need for volunteers, and Sturgill admits asking for help was daunting at first. However, once members saw a return on their involvement through thank-you letters and pictures, volunteers started coming to her instead.
"A year or two ago, I would have to approach people to help. Now, they're approaching me to ask what they can do," says Sturgill.
Making an Impact
Thanks to Sturgill, the Lodge has secured a $10,000 Impact Grant for the past two years. Both projects focused on helping our men and women in uniform, a cause Sturgill spends time volunteering for regularly. In fact, Sturgill is also involved with the Civil Air Patrol, a non-profit, volunteer auxiliary of the U.S. Air Force.
This year, Sturgill saw ways the Elks could actively get involved at a local VA Hospital. These simple ways added up to an Impact Grant project which includes weekly art classes and a general store for veterans to collect necessities.
"These men and women served our country-- this is the least we can do for them," says Sturgill.
Advice from a Star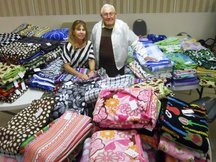 As the author of the Lodge's Impact Grant proposal, Sturgill has tips for crafting a strong application.
"Research your project thoroughly and explain exactly what your Lodge plans on doing," Sturgill says. "The project needs to be something you and the Lodge are passionate about."
Sturgill possesses a passion for putting service before self in everything she does. It's this passion that drives her good works, with the help of the Lodge and CIP grants.
The Elks National Foundation will help Lodges meet local needs by investing up to $6.5 million this year in Elks communities through Beacon, Gratitude, Promise and Impact Grants. These grants offer Lodges an opportunity to serve the community in ways that will raise the Lodge's profile, energize the membership, encourage former members to return to the fold, and gain the notice of people who want to be part of an organization that's doing great things. To learn more about the Community Investments Program, please visit www.elks.org/enf/community.