And the Elks of Bullhead City, Ariz., Lodge No. 2408 will meet you at the station. Lodge members used a Beacon Grant to take 13 veterans from the Prescott VA Hospital on a scenic train ride through the Verde Valley in Clarkdale, Ariz.
A Call to Service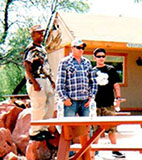 The Lodge, passionate about serving veterans, knew from the start that it wanted to use the new Beacon Grant to support veterans. Originally, the Lodge applied to use the grant to donate supplies to the VA hospital. When the Lodge learned that donations don't qualify for Beacon Grants, it headed back to the drawing board. The second time was the charm—the Lodge re-applied and was approved to take recovering veterans on a day trip.
Elks began the day by treating the veterans to a home-cooked breakfast. Well-fed and ready to go, the crew then set out for the station. Upon their arrival, the conductor announced their presence and the veterans received a standing ovation from their fellow passengers.
All Aboard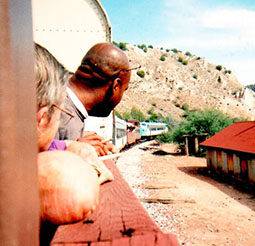 The four-hour train ride wound through the beautiful Verde Valley, offering views of desert vistas, bald eagles, the Verde River and its wildlife. The trip also offered the recovering veterans some time to relax and a much-welcomed chance to leave the hospital.
"The best therapy for veterans is to know they are thought of and appreciated," writes Paula Moran, Recreation Therapy Supervisor at the hospital. "Thank you, Elks, for spending time with our veterans. It means a lot not only to them but to all of us here."
The Elks also had a great time and are planning more trips in the future. "We absolutely plan to hold this event again," says Gwen Nelson, one of the project managers. "We couldn't have done it without the Beacon Grant."
Through Beacon Grants, the Elks National Foundation gives Lodges the opportunity to develop an ongoing, charitable, Elks-driven community project. These $1,000 grants are available to all Lodges. To find out more about Beacon Grants and the Community Investments Program, visit www.elks.org/enf/community.