'Twas the night before Christmas, and all through the house, not a creature was stirring-- except for the Elks.
Santa isn't the only one hard at work the night before Christmas. Thanks to an Elks National Foundation Gratitude Grant, Ticonderoga, N.Y., Lodge No. 1494 continued its tradition of helping those in need on Christmas Eve.
Packing Up Holiday Cheer
Each Christmas, the Elks provide a traditional Christmas dinner to over 250 families in need.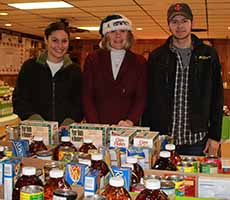 Elks start the day at 6am by packing boxes with turkey, potatoes, vegetables, fresh oranges and more. Next, Elks and volunteers form a human assembly line to load the boxes of food into waiting trucks. They then deliver the Christmas dinners to families in the surrounding communities.
"Our Lodge is a team, working together to give back to our community," says ENF Chairwoman Peggy Lamb. "The Gratitude Grant has helped us do just that."
Elves Pitch In
The Elks couldn't have served as many community members in need without the help of local elves.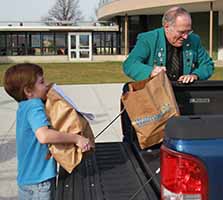 Third-grade students from a local elementary school diligently collected over 90 bags of groceries to be donated. College students home for winter break pitched in by packing the food. This joint effort not only showcases the Lodge as a leader in community service, but also allows the Lodge to instill the spirit of giving in others.
Storybook Ending
After delivering the meals, residents of Ticonderoga heard the Elks exclaim as they drove out of sight, "Merry Christmas to all, and to all a good night!"
The Elks National Foundation helps Lodges serve their communities by offering $2,000 Gratitude Grants. Lodges are eligible to apply for Gratitude Grants after meeting the National President's per-capita goal for Foundation giving. To find out more about Gratitude Grants and the Community Investments Program, visit http://elks.org/enf/community/