Dress code: Denim casual. Sleigh bells optional. Christmas spirit required. Stevens Point, Wisc., Lodge No. 641 made sure to share their Christmas spirit, time and hospitality last December. The Lodge partnered with the Boys & Girls Club and Operation Bootstrap to throw a Christmas party for local youth in need. The event, named the Blue Jean Ball, catered to youth aged 12 to 17, a demographic often forgotten around the holidays.
Like a Good Neighbor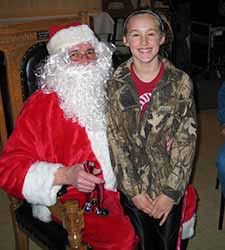 The Lodge, eager to apply for an ENF Promise Grant, was inspired to serve youth by expanding their holiday activities. The Boy and Girls Club, located just blocks from the Lodge, seemed like a natural partner for the project, though one the Lodge had previously overlooked. "I think we kind of took the youth over there for granted," says Project Manager Mike Kinney. "We saw that there was a club but we never realized the kids going in or out." The Lodge also called on their Christmas basket partner, Operation Bootstrap, to spread the word to any families with teens who could use a little holiday assistance.
The Lodge, inspired by St. Nick himself, set to work planning, purchasing gifts and soliciting donations from the community. Word spread, and members even began to call the Lodge to see how they could help.
Fairy Godmothers of the Blue Jean Ball
The day of the ball, spirits were high as Elks prepared the Lodge for the event. As the first guests arrived and settled in, neither the teens nor the Elks knew what to expect. The party soon took off though, even inspiring some parents to ask if they could stay for the big event. With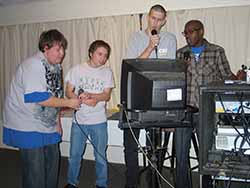 Bingo as a kick-off event, the teens and Elks soon let the holiday spirit take over. A lively round of karaoke got the crowd going, and an open dance floor ended the occasion. Dinner was served and gifts were distributed. Each teen received gift card to purchase a new pair of jeans, and movie passes for them and their friends.
The Big Man
Santa even showed up to join the festivities. The teens happily visited with him, joked around and shared their Christmas wishes. Santa, however, may have been caught off guard by one teen's request – "Hey Santa, you got any smokes?" Santa, to the teen's dismay and the Elks' relief, did not.
The Elks were thrilled with how the event went, and they are already planning to include the Boys and Girls Club youth in future events, including another ball next year. "The teens were very grateful," said then Exalted Ruler Robert Jaeger. "It is a pleasure to hold the Blue Jean Holiday Ball."
The Elks National Foundation awards $2,000 Promise Grants to the first 500 Lodges that pledge to host an event that helps build the character and competence of local youth. To find out more about Promise Grants and the Community Investments Program, visit www.elks.org/enf/community.