Throughout Veterans Remembrance Month, the ENF is featuring our Hand Up series. Each Friday, we will post an article focusing on the issues facing today's returning servicemen and women, as well as examples and resources for Lodges looking to do more to serve them. Here is this week's installment.
This series was inspired by the 2012 National Conference on Volunteering and Service. This section references a speech given by veteran and Purple Heart recipient Bryan Anderson at that conference.
To view the introduction to the series, click here.
To view the first installment, click here.
To view the second installment, click here.
To view the third installment, click here.
To view the fourth installment, click here.
As Veterans Remembrance month draws to a close, some will forget about the struggles that veterans face and let these issues fade from mind. The issues won't fade though, and veterans will continue to need the support of their local community. And, the Elks won't forget that.
"Homelessness continues to be a problem," says Bob Hennings, Director of the Elks National Veterans Service Commission. "For younger veterans and even those from the Vietnam era, adjusting to society can be difficult. PTSD affects a large number of veterans, causing depression and anxiety. For all veterans, obtaining proper care is essential. One aspect of proper care is transportation; another includes easing loneliness and another is access to healthcare."
These issues are solvable, if we work together to solve them. Elks pledge to never forget our nation's veterans. We should always keep in mind that veterans simply need a hand up, and Elks can offer that hand.
Hennings offer some guidance for those looking to take action. Before action, however, comes planning.
"First and foremost, find out the needs of veterans or active military in the community. If there is a VA hospital, State Veterans Nursing Home, military hospital, or base in the area, Lodges can contact these facilities. The National Guards of each state have family assistance centers, and local government websites often describe the needs of veterans in the community. All VA hospitals sponsor events for homeless and at-risk veterans call Stand Downs, which provide counseling for benefits, jobs, housing, necessities, food and clothing. Volunteers are always welcome."
Partnerships
To address these problems and conquer these issues, partnerships can be key. When planning a project, be aware of what other people are doing. There are many organizations that serve veterans and military, so when you begin a project you rarely have to start from scratch. Additionally, the more you know, the more you can be a resource for those who are looking for help. Staying informed also ensures that services aren't duplicated. With different issues facing veterans, it's important that groups work together to solve them.
Spread the Word
It is also important to spread the word about projects that serve veterans. Inform local government, and ask local businesses and organizations for donations, supplies or volunteer support. Contact the local newspaper and local radio stations as well.
Publicity can be a great way to spread awareness. Many people want to help veterans but don't know how. Your Lodge can offer them a way to do so. When spreading awareness about veterans' issues, focus on facts. Educating the public on the issues facing veterans, and offering them a way to help by supporting your Lodge project, is an effective way of engaging the community.
Elks in Action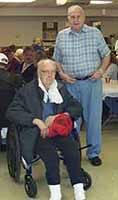 Berea, Ohio, Lodge No. 1815 used a Freedom Grant to take 50 veterans with disabilities to a major league baseball game. The VA hospital provided the transportation and Elks paid for tickets, food and beverages. The outing offered a rare treat for the veterans, who don't often get out into the community.
"Hospitalized, homebound and elderly veterans may have few or no family members nearby," Hennings says of the project. "Their friends may have passed on and they are essentially alone in the world. Financial support is helpful, but it's much better to have personal contact with veterans."
Your Lodge in Action
As a charitable, community organization, the Elks are in a unique position to reach out and help veterans, military members and their families. In the
introduction to this series
, General George W. Casey was quoted saying, "Start at the local level. Don't wait for government to act."
Your Lodge can start at the local level today. The ENF is here to help.
Visit the Community Investments Program webpage to learn about grants available to serve veterans.
Visit the Elks National Veterans Service Commission webpage to learn about Freedom Grants and other veterans programs.
Resources
Military OneSource
offers a great rundown of services for veterans in different areas. This would be a great resource for your Lodge to find partners, and provide information to veterans about local support.
Got your 6
is also a great resource. It's a relatively new organization, but it has hit the ground running and can help your Lodge learn more about many different issues.
Kids Rank
is an organization that focuses specifically on supporting the children of military members.
The Department of Veterans Affairs
has a website packed with information and resources for veterans and those looking to effectively serve veterans.