Throughout Veterans Remembrance Month, the ENF is featuring our Hand Up series. Each Friday, we will post an article focusing on the issues facing today's returning servicemen and women, as well as examples and resources for Lodges looking to do more to serve them. Here is this week's installment.
This series was inspired by the 2012 National Conference on Volunteering and Service. This section references a speech given by veteran and Purple Heart recipient Bryan Anderson at that conference.
To view the introduction to the series, click here.
To view the first installment, click here.
To view the second installment, click here.
To view the third installment, click here.
Continued Service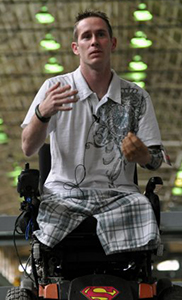 As much as Elks can serve veterans, veterans can help the Elks serve. The conference began with a speech by Bryan Anderson entitled "Reporting for Service. Anderson, a veteran who was injured in combat a few years ago, now has two prosthetic legs and one prosthetic arm.
As he talked about his journey from Afghanistan to Germany, to Walter Reed Hospital to the stage he stood on to give the speech, he focused on all of the people who came together to save his life. The medic who found him near the wrecked truck. The helicopter pilot who flew into combat to get him. The surgeons in the hospital in the Middle East. The nurses at Walter Reed. His mother who stayed by his side. The therapist he found upon returning home.
As he read this list of people, he talked about how his desire to serve had motivated him to join the military. His gratitude to those who helped him inspired him to continue that service now that he is out of the military.
Finding a New Mission
Anderson's speech kicked off a recurring theme for the conference over the next few days: embracing veterans as resources. Veterans need help, but they can also offer help. A desire to serve is what draws people to join the military, and that desire remains once their time in the military ends.
Many veterans struggle to find purpose when they return home. They've left one mission behind, and now they're searching for another. A job may pay the bills but does not always provide a purpose. As a local, charitable organization, the Elks are uniquely suited to help with this! Invite veterans and military members in your community to an Elks event, and ask them to be a part of your next service project. Sometimes the best way to honor a veteran is to offer that person the ability to serve his or her community as a civilian.
It's an ideal partnership in many ways—military members learn that Elks are there to support them, and your Lodge recruits volunteers to help make your next charitable event a success.
Elks in Action
Take a cue from Ocala, Fla., Lodge No. 286.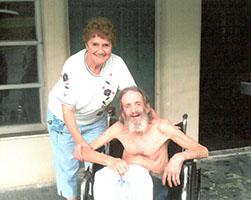 Elks at Ocala, Fla., use an ENF Impact Grant to prepare and deliver warm meals to homeless and homebound veterans. The Lodge partners with Veterans Helping Veterans to help identify veterans most in need. The partnership has been a great success so far.
"This is a very positive and worthwhile program," writes Veterans Helping Veterans. "The Elks not only provide food but provide a link to the community to show these veterans that people care about them and they are not forgotten."
Resources
The Mission Continues aims to inspire and challenge veterans to continue serving. It supports projects and volunteers across the country.
Visit the webpage
to learn more, and contact this organization to partner on your Lodge's next service project.
The 6th Branch organization also focuses on continuing service. It aims to mobilize veterans and other volunteers to improve and revive a Baltimore neighborhood, among other projects. This organization also partners with other veterans organizations to support all veterans continuing their service after the military. Visit the webpage to learn more and see how your Lodge can help.