Throughout Veterans Remembrance Month, the ENF is featuring our Hand Up series. Each Friday, we will post an article focusing on the issues facing today's returning servicemen and women, as well as examples and resources for Lodges looking to do more to serve them. Here is this week's installment.
This series was inspired by the 2012 National Conference on Volunteering and Service. This section references a speech given by Col. David Sutherland, special assistant to the Chairman of the Joint Chiefs of Staff, at that conference.
To view the introduction to the series, click here.
To view the first installment, click here.
To view the second installment, click here.
A Return to Stability
Almost a third of veterans between the ages of 18 and 24 were unemployed last year, according to a report by the Center for Progress. It's estimated that as many as one in five homeless persons is a veteran. Military spouses have a higher percentage of unemployment, and military children experience higher levels of anxiety. Veterans, military members and their families have a unique set of challenges. This installment focuses on three common challenges, and ways Elks can help.
Employment
As
last week's installment
referenced, many military members struggle to find employment when they return home. Unemployment is 13 percent for veterans and almost 30 percent for Iraq and Afghanistan veterans. That's much higher than the national average of nearly 8 percent. It's also a problem that's solvable.
One speaker at the conference mentioned that his town had success simply getting the word out. It was helpful for local businesses to advertise they are open to hiring veterans. A welcome sign in a window seems like a small thing, but it's more than that for a veteran looking for employment.
If your Lodge is active in the community, spread the word that sometimes veterans are grateful to know that businesses are open to hiring them, and willing to deal with the challenges that come as veterans adjust to civilian life.
Homelessness
Homelessness is also a struggle for many who have served in the military. Statistically, one in five homeless persons is a veteran. By reaching out to the homeless in your community, you can help support veterans. Many Lodges do this already by volunteering at soup kitchens, supporting homeless shelters, and partnering with transitional centers. Often Lodges serve veterans every day without knowing it—be aware of the fact that many homeless people once served our country in the military.
Family
In his speech, Col. Sutherland also spoke of the need to support not just those who are serving or who have served, but also their families. Many military spouses have trouble finding employment when their spouses are deployed, and families struggle to make ends meet.
Additionally, military children have a unique set of challenges that their peers don't. On average, military children move nine times in their youth. They often need help with school transitions and coping with the prolonged absences of a parent. Elks can help military families in their communities by reaching out to show them Elks are there to help, in whatever form it is needed.
Elks in Action
Read how these Lodges are helping veterans address some of these issues in their communities.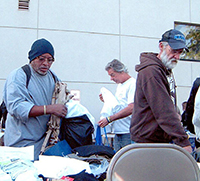 Sparks, Nev., Lodge No. 2397 used its new Beacon Grant to support the first annual Reno Stand Down for Veterans by purchasing clothes for veterans. Elks also solicited donations from the community, and approached local businesses for discounts and donations.
"This event met with huge success from the veterans and the community," says Project Manager Fred Kelly. "Our Lodge benefitted by seeing veterans receive these highly needed personal items. We plan to continue this project annually."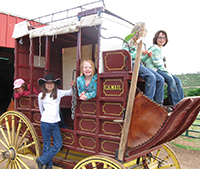 Littleton, Colo., Lodge No. 1650 received an Impact Grant to fund, volunteer and organize multiple three-day adventures for the children of active military personnel with the Cowboys for Kids project. The Lodge partners with the Colorado National Guard to offer the camp, which helps military children cope and meet others who are in the same situation.
"Thank you for the wonderful time my daughters had during the camp!" writes Cheryl Montgomery. "They could not stop talking about the fun they had connecting with other military kids, and the entire team. It's wonderful knowing that the sacrifices these kids have made during my husband's and my time away are not forgotten."
Resources
Blue Star Families supports military families in many ways. Visit the webpage to see how your Lodge can help.
Community Blueprint Network has had great success helping veterans find employment. It may need volunteers for a job fair near your Lodge. Visit the webpage to see how the Elks can help.
The U.S. Chamber of Commerce also has a nation-wide initiative called "Hiring Our Heroes." Visit its webpage to learn about events in your community, and check out many of the resources offered to organizations and people looking to support veterans.
The 100,000 Homes organization provides housing for homeless Americans every day, and it partners with the VA and veterans support groups in communities across the country. Visit the webpage to learn more.