Throughout Veterans Remembrance Month, the ENF is featuring our Hand Up series. Each Friday, we will post an article focusing on the issues facing today's returning servicemen and women, as well as examples and resources for Lodges looking to do more to serve them. Here is this week's installment.
This series was inspired by the 2012 National Conference on Volunteering and Service. This section references a speech given by Col. David Sutherland, special assistant to the Chairman of the Joint Chiefs of Staff, at that conference.
To view the introduction to the series, click here.
To view the first installment, click here.
A Personal Touch
The Hard Road Back
Recently the New York Times featured a series focused on young veterans and the unique struggles they face. The three veterans interviewed gave a glimpse into some of the different issues that need to be addressed, and how the community can help. Click here to read the series, entitled "The Hard Road Back."
"Eighteen veterans take their lives every day," said Colonel David Sutherland. He challenged everyone in the room to do a better job helping those veterans. Col. Sutherland offered many examples of veterans struggling to adjust to civilian life, and just needing a hand up to get back on their feet.
"There are just some things government can't do," he continued. In his presentation, Col. Sutherland focused on how communities, organizations and the government can partner to serve veterans. He spoke of several veterans he personally helped get back on their feet after a tough time adjusting to civilian life. He connected each of them with resources in their community—for example, he arranged for one solider and his spouse to attend marriage counseling to deal with the stresses of deployment. He encouraged another veteran to find a new mission in life, and signed him up as a volunteer with Habitat for Humanity where he put his building skills to use.
Throughout 2013, six of the 43 Impact Grant recipients will focus on serving veterans specifically. Here are two of those project managers' insights about the Lodge's project inspirations.
A New Challenge for Veterans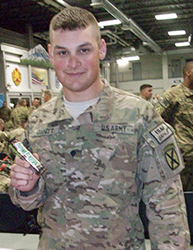 Keith Pignataro is one of the Project Managers for Summit, N.J., Lodge No. 1246's Post 9/11 Veteran Mentoring Impact Grant project. The Lodge will tap into the talent, experience and connections of its members to carry out the project, which will help veterans with anything from providing career counseling, building resumes, arranging interviews, and dozens of other individual needs. Pignataro says, "We are passionate about helping veterans and we know no better way of showing our appreciation for all their efforts than by giving back of ourselves to help as many of the returning military personnel to get their lives back to normal." The inspiration for the project was inspired by CIP Grants, Freedom Grants and the change in guidelines to encourage Lodges to be more active. "We've been involved with veterans organization for quite a few years now," Pignataro continues. "With the new grant guidelines, we thought, oh we have to change. So we decided that we needed to take the bull by the horns, and develop a way of doing things that have a bigger impact."
Working Together, Meeting Needs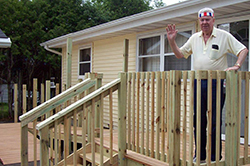 Another new Impact Grant project serving veterans is Durango, Colo., Lodge No. 507's Help Vets project. I spoke with one of the Project Managers Jeff Punches, who starts with much the same advice as Summit. "The Durango Elks did extensive research into the needs of local veterans by conducting interviews with local VA personnel, Assisted Living and Nursing Home Social Workers, La Plata County Veteran Service Officers, State of Colorado Veterans Service Officers, and Veterans Service Officers of various local service organizations." Punches continues, "The results were startling and uncovered a host of unmet needs." From there, the Lodge designed its project, which focuses on providing care packages and support for homeless and elderly veterans, and helping veterans with disabilities adapt their homes by building wheelchair ramps and other improvements.
Resources
Recently returned veterans have many different needs. Below are links to three organizations that address these unique needs. Visit these websites and contact the organizations to see how your Lodge can help.
The organization Give an Hour provides free mental health services to U.S. Military Personnel and families affected by the current conflict in Iraq and Afghanistan. Give an Hour matches providers willing to donate their time with veterans and military members in their area. Click here to learn more.
The organization Operation Mend provides veterans and military members with access to medical care. Click here to learn more, and find similar organizations in your area.
The organization Patriot Paws is one of many organizations that trains service dogs for veterans. Patriot Paws is always looking for volunteers! Click here to learn more.
Next week on A Hand Up: The third installment will again reference Col David Sutherland's speech. It will focus on some common issues that veterans faces upon returning home, and identify ways your Lodge can help.

To view the third installment in this series, click here.