As residents in New York and New Jersey recover from Hurricane Sandy, they're finding out that even in times of crisis, the Elks are there for the community.
Serving up Relief
In Hoboken, thousands are without power and a place to stay,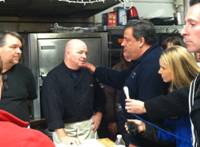 but they know they can get a hot meal at Hoboken, N.J., Lodge No. 74. Since November 1, Elks have served more than 4,000 meals to those in need. The Lodge has partnered with the National Guard, city shelters, senior citizen organizations and various groups to ensure no one goes hungry. As Elks worked from 10 in the morning until 10 at night lending a hand, local officials took notice. Last Sunday, Secretary of Homeland Security Janet Napolitano, Governor Chris Christie, and several members of Congress came by to thank the Elks and reassure all present that they would not face the road to recovery alone.
"We have to work together and be patient," said Governor Christie.
The Elks in Hoboken are way ahead of him.
Click here to view a video of Secretary of Homeland Security Janet Napolitano and Governor Chris Christie visiting the Hoboken Lodge.
The Power of Caring
Meanwhile, Metuchen, N.J., Lodge No. 1914 also pitched in. With many in the community without power, the local high school became the place to go to warm up and charge electronics. When the local principal and Elk member mentioned that some were also in need of food, the Lodge bought snacks and supplies. Scholar Advisory Board member Maryann Slater helped out by shopping with her mother, a member of the Lodge.
"We're all still in shock that this happened," Slater says. "I'm proud of the Elks presence in the community through ENF grants and Elks resources."
Not Just Regional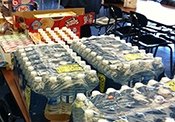 New Jersey Elks aren't the only ones pitching in, though. Lodges in Pennsylvania to Michigan are raising funds and collecting supplies for those affected.
Sandy may have devastated communities in a few days, but Elks have been building stronger communities for years. It's no contest.
Is your Lodge helping with Hurricane Sandy recovery efforts? Email ENFPrograms@elks.org to tell us about it.