Walking up the steps or turning on a faucet are tasks many complete without a second thought. But for Staff Sergeant Kelly Keck, a veteran severely injured in Afghanistan, these daily tasks present new challenges.
Gratitude for our Troops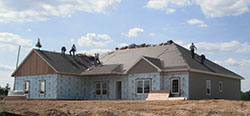 The house Keck came home to after serving simply could not accommodate him. When the Elks of Abingdon, Md., Lodge No. 2354 learned that
Homes for Our Troops
would be in town to build a specially adapted home for Keck and his family, the Lodge's decision to use their ENF Gratitude Grant to help was unanimous.
"Anyone can present a check, however, it doesn't get Elks out into the community and seen doing great things," says Exalted Ruler Rae Vasold. "We know from past experience that getting involved makes more of an impact."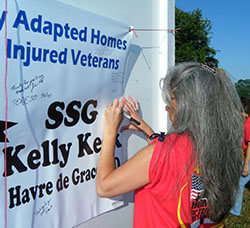 Breaking Ground
Elks participated in every aspect of the build. Lodge members worked with the event's co-coordinator to run the opening ceremony, helped install specially equipped bathroom fixtures in the house, and fired up the grill for hot dogs and hamburgers to feed all 200 volunteers.
Being such a visible partner in the build not only highlighted the Lodge's commitment to veterans, it sparked renewed interest in what the Lodge does year round.
"Several volunteers asked for more information about the Elks, with two completing applications for membership on the spot," says Vasold.
A Veteran Comes Home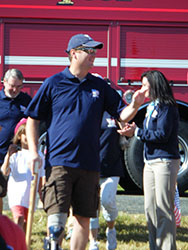 After just two days, the accessible home was nearly completed. A cheering crowd of volunteers waving American flags welcomed Keck and his family to their new home.
"To see hundreds of Americans of all ages coming out to support a veteran who put his life on the line so we can continue to enjoy our freedom was beyond words," says Vasold.
Mission accomplished.
The Elks National Foundation helps Lodges serve their communities by offering $2,000 Gratitude Grants. Lodges are eligible to apply for Gratitude Grants after meeting the National President's per-capita goal for Foundation giving. To find out more about Gratitude Grants and the Community Investments Program, visit http://elks.org/enf/community/