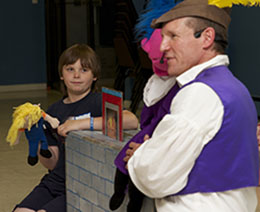 Beware Chuck E. Cheese, Sussex, N.J., Lodge No. 2288 is the new destination for family fun. Last summer, the Lodge hosted a series of free events for kids with special needs and their families.
Welcome to the Big Top
Using an ENF Gratitude Grant, the Elks transformed the Lodge into a circus tent, carnival, puppet theater and more through their GREAT Place program.
GREAT, an acronym for Gathering Room--Everyone All Together, started after a Lodge member noticed that there were few local opportunities for children with special needs that included the entire family.
The Lodge reached out to local groups like SCARC Inc., an organization that serves people with developmental disabilities, to ensure GREAT Place met the needs of all involved. SCARC was happy to provide guidance and volunteers.
"Kids have the opportunity to participate in a wide variety of activities at their own pace," says Daele Phlager, staff member at SCARC. "There are not enough of these opportunities available for our families in Sussex County and I am grateful to be a part of it!"
Family Circus
More than 80 children have joined the fun at the Lodge each month. At the inaugural event in April, the Elks treated the kids to a circus, complete with carnival games and an appearance by Macaroni the Clown. May's program included an interactive marionette show and a make-your-own-sundae bar.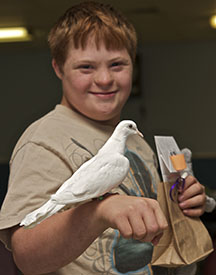 "The program has been energizing, heartwarming, and great fun for our son, Jacob," says Lydia DeGroat, a mom whose family participated.
Come One, Come All!
The Elks' GREAT Place helps more than just kids.
"The program offered parents the opportunity to network with other families who may be experiencing the same issues," says Phlager.
Chuck E. Cheese may be "where a kid can be a kid." But the Elks at Sussex, N.J., Lodge No. 2288 offer that and so much more.
GREAT Place—where families can be families.
The Elks National Foundation helps Lodges serve their communities by offering $2,000 Gratitude Grants. Lodges are eligible to apply for Gratitude Grants after meeting the National President's per-capita goal for Foundation giving. To find out more about Gratitude Grants and the Community Investments Program, visit www.elks.org/enf/community.