Looking for good music in Oak Ridge, Tenn.? Check out the Elks Lodge. Elks at Oak Ridge, Tenn., Lodge No. 1684 use a Promise Grant to hold Drug-Free Safe Zone Concerts for local youth. These concerts feature several local bands and aim to give youth from middle school to high school a safe, fun place to go with their friends.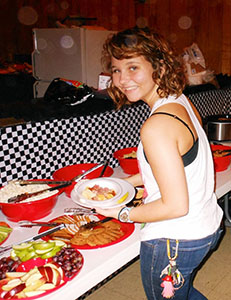 Start Spreading the News
The concerts, which feature a strong anti-drug message, have become quite popular with local youth.
"Unfortunately, Oak Ridge doesn't offer many things for children to do," says Project Manager Donna Forstrom. "These concerts are recurring events that many people look forward to."
The Lodge does its best to spread the word about the concerts to the community. Elks partner with local groups like Anderson County Allies for Substance Abuse Prevention, Roane County Anti-Drug Coalition, and Clayton's Lesson to help publicize the concerts throughout the year. Elks promote the concerts in the local newspaper and on the local news. They also post flyers around town and publicize the event on Facebook so that youth can invite their friends and the bands can promote their shows.
As Elks prepare for the event, local teens spread the word to their friends, and local bands practice for the big show.
The Sound of Success
All the publicity works wonders. Nearly 100 youth attend each of these concerts, which feature several popular bands from the area, games for all ages, and a healthy meal for all who attend. Elks are there to serve food, supervise, and spread the drug-free message.
Each year, Lodge members spend an estimated 650 hours ensuring these events go smoothly.
"This program, made possible with an ENF Promise Grant, proudly takes action against youth drug use through education and inspiration," Forstrom says.
Everyone has a great time, too.

The Elks National Foundation awards $2,000 Promise Grants to the first 500 Lodges that pledge to host an event that helps build the character and competence of local youth. To find out more about Promise Grants and the Community Investments Program, visit www.elks.org/enf/community.