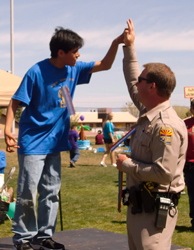 Elks at Page, Ariz., Lodge No. 2498 didn't wait for the opening ceremonies in London to kick off their Olympics. With the help of the Coconino County Sheriff's department, local schools, and a Community Investments Program Promise Grant, Elks planned and held the 23rd annual Northern Arizona Special Olympics in March.
A Historic Event
Elks have been involved with this event since it began in Northern Arizona. Twenty-three years ago, Special Olympics needed a group to organize the annual event, and the Page, Ariz., Lodge stepped up to carry the torch. The first Northern Arizona Special Olympics was a success, and PER Don Roberts committed to the project then, saying "I will continue doing this event until the entire stadium is filled."
Roberts hasn't met his goal yet, but he can certainly be proud of the event and how far it has come. This year, more than 25 Lodge members volunteered their time. They showed their Olympic spirit by recruiting volunteers, and planning and organizing the event from start to finish.
Let the Games Begin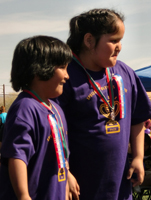 When the day of the competition arrived, Elks were once again out in force, preparing and serving food to the athletes and their families, conducting the races, and ensuring each athlete received a red ribbon and award medal for competing. This year, 235 athletes, from schools within 100 miles of the event, participated in the games.
The athletes aren't the only ones having a great time. Elks are committed to continuing the project, and the Promise Grant has allowed them to do so as the number of athletes increases.
"The best part of volunteering for this event is the see the joy on the kids' faces," says Project Manager Russ Madsen.
The Elks National Foundation awards $2,000 Promise Grants to the first 500 Lodges that pledge to host an event that helps build the character and competence of local youth. To find out more about Promise Grants and the Community Investments Program, visit www.elks.org/enf/community.