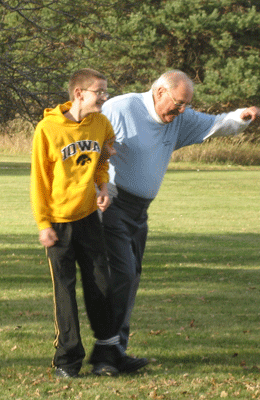 Anyone who's been in a three-legged race knows the value of a good partnership. Elks at Charles City, Iowa, Lodge No. 418 are just the kind of partners you would want. Lodge members volunteer with Caring Connections mentoring program in their community, and are committed to being good role models for local youth.
The Mentor a Child program is dedicated to strengthening self-esteem, social skills and academic performance by providing positive and consistent mentoring relationships. The Elks who volunteer as mentors enjoy it so much that they inspired the rest of the Lodge to get involved.
In it Together
Elks used a Community Investments Program Promise Grant to hold events for Caring Connections participants at the Lodge. Throughout the year, Elks organized and hosted events like a pumpkin carving night, a local scavenger hunt, a fishing derby and canoeing day at the Lodge's pond, and a year-end celebration that included a very competitive three-legged race. (pictured at right)
More than 100 people attended the year-end celebration, created to mark a successful first year for the collaboration. Elks ran games, served lunch, and awarded prizes to the mentees and participants.
Community Ties
The year-long partnership was such a success that the local Chamber of Commerce recognized Caring Connections and the Elks for the program. It has also inspired more Elks to sign up as mentors for local youth.
"Thank you for all your support and work for the mentoring program," says Caring Connections Program Coordinator Jessica Daniels. "We are all excited about the partnership with the Elks!"
The Elks National Foundation awards $2,000 Promise Grants to the first 500 Lodges that pledge to host an event that helps build the character and competence of local youth. To find out more about Promise Grants and the Community Investments Program, visit www.elks.org/enf/community.