Wounded warriors staying at Joint Base Lewis McChord were in for a winter treat, thanks to Lake Sammamish, Wash., Lodge No. 1843. Elks used a Gratitude Grant and partnered with the Cascade Drift Skippers Snowmobile Club to give the soldiers a great day off the base.
Soldiers were provided with free equipment and careful instruction before setting out on a snowmobiling trip through a local snow park. Elks and volunteers provided meals and snacks, and kept the fire roaring all day to keep the soldiers warm as they headed out into the wet March weather.
The soldiers were very appreciative, and both the Elks and the Cascade Drift Skippers were happy with the event.
Sergeant Major Howard S. Briel, who took part in the event, writes, "Thank you for all of your support. The event was a big hit and served as a great opportunity for both military and non-military to show their appreciation for soldiers serving our great country."
Below: Leading Knight Monte Russell poses with the group of soldiers.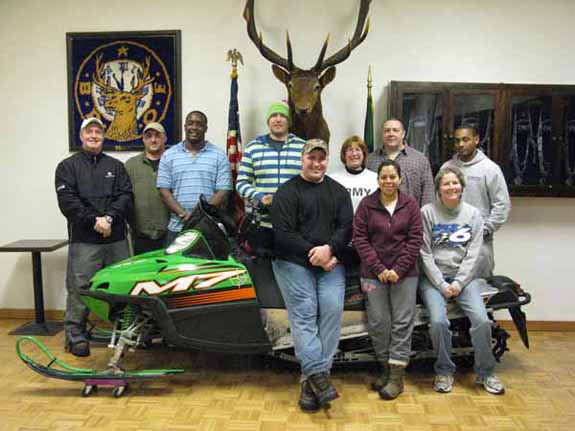 The Elks National Foundation will help Lodges meet local needs by investing up to $6.5 million this year in Elks communities through Beacon, Gratitude, Promise and Impact Grants. These grants offer Lodges an opportunity to serve the community in ways that will raise the Lodge's profile, energize the membership, encourage former members to return to the fold, and gain the notice of people who want to be part of an organization that's doing great things. To learn more about the Community Investments Program, please visit www.elks.org/enf/community.
---
Back to top