Four years ago, we awarded our first Impact Grants to an inaugural class of 25 Lodges. Over the next three years, nine of those Lodges continued to reapply and receive renewal grants. Here's a look at our first class of Impact Grant graduates and their amazing accomplishments.
These nine Lodges blazed a trail for the rest, spurred the growth of the Community Investments Program, and inspired us all. We salute them!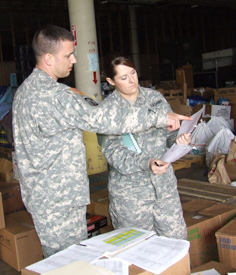 Rancho Cordova, Calif., Lodge No. 2484
We've Got Spirit
The good deeds of military members inspired Rancho Cordova's Catch the Spirit project. The Lodge started the project in 2007 to provide support for veterans, active duty military members and their families, and any person in need in the community. Elks provided year-round material support, mostly in the form of food and supplies, but that was just the beginning. Elks expanded the project and began to volunteer at area Stand Downs, provide water and drinks for the National Guard when they were fighting forest fires, and even donate bicycles for children whose parents are deployed.
As word spread, people came to view the Elks as an organization they could count on for help.
A transitional shelter needed furniture for the new apartments of three formerly homeless veterans. Elks provided couches, tables, beds, food and more for each of the veterans.
A military chaplain knew some older veterans who were low on food at the end of each month. The Elks began to drop off regular supplies at their homes.
A church needed help establishing a "Paws for Vets" program in the community. They called the Elks.
From providing medical equipment and even temporary shelter to veterans in need, to holding welcome-home parties for returning military members and their families, the Elks are truly making a difference in Rancho Cordova. A thank-you letter from a local veteran says what many in the community now are thinking about the Elks: "I don't know what I would do without the Elks' help. God bless Catch the Spirit for their kindness and support."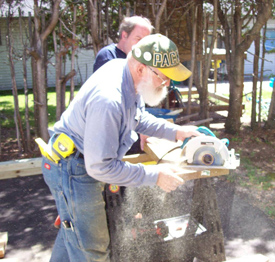 Wausau, Wis., Lodge No. 248
Build it, so They Can Come … and Go
Elks at Wausau, Wisc., Lodge No. 248 know that freedom comes in many different forms. They've chosen to promote freedom in their own way with the Elks Community Ramp Builders Project.
Elks partner with the local Faith in Action group to plan, design and build accessible ramps at the homes of citizens with disabilities in the community. Each spring, summer and fall, Elks spend hundreds of hours helping local citizens with wheelchairs and other mobility issues easily access their own homes. In the winter, Elks prepare for the building season. They've also partnered with the middle school shop class, which helps the Elks build parts of the ramps, while learning about woodwork and the value of service.
"The most important part of the project is meeting the recipients and working with them on the ramp," Project Manager Bob Henning says. "The volunteers get to know people and how important their independence is to them. The motto 'Elks Care, Elks Share' takes on a new meaning for all the volunteers who work on the ramps and share their skills with other volunteers as they build a gift for someone in need."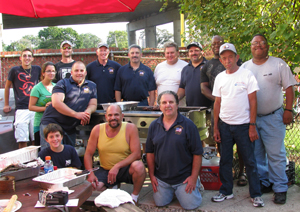 Bridgeport, Conn., Lodge No. 36
Elks Won't Walk on by
In a way, the project title says it all—Serving Those Who Served. For the past four years, Elks at Bridgeport, Conn., Lodge No. 36 have been supporting veterans staying at the transitional facility Home for The Brave.
In another way, it's just the beginning. For the up to 50 veterans staying at the house, Elks have been there every step of the way. Elks provide every resident with welcome packages full of necessities from alarm clocks and clothing to toiletries and bus passes to food and information about help centers and other local resources.
This is the Elks' first goal—to provide everything the veterans need so they can focus on recovery. The Elks' second goal is to provide a healthy, nutritious meal for the residents once a month. Elks and residents look forward to the dinners, which offer Elks a chance to show their appreciation, and veterans a chance to relax and spend time with friends.
"The most important aspect of our project is showing veterans who have fallen on hard times—whether financially or because of substance abuse—that they are not forgotten," sums up Project Manager Matthew Frankel. "We still remember what sacrifices they made for our freedom. This is just a small way we can show our appreciation."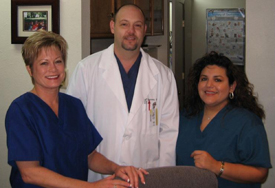 New Braunfels, Tex., Lodge No. 2279
A Reason to Smile
This project started with a smile, or more accurately, a dentist's vision to help people improve their smiles. Since 2008, New Braunfels, Texas, Lodge No. 2279 has run the Dental Care for the Underserved Project to provide necessary dental care for those in need. A member of the Lodge who is a dentist partnered with fellow Elks to address the lack of dental care in the community for those who could not afford it. The nearest clinic that provided such care was hours away, and many could not make the trip.
The Lodge consulted with local social service agencies and began to distribute applications in the area. Since that time, the Lodge has provided ongoing and serious dental care to more than 150 people. Last year alone, the project costs totaled $47,440.
"These folks are very grateful for the program," Project Manager Fred Adams says. "We serve the folks who have no other means of dental care. This program relieves their pain so they can get on with their normal lives."
The project has met a great need in the community, and as a result of the Lodge's efforts, many now see it as an essential service. The Lodge's Impact Grant leveraged tens of thousands of dollars in grant money from different organizations, and many in New Braunfels no longer have to worry about where to turn to for help.
And people say they don't like dentists.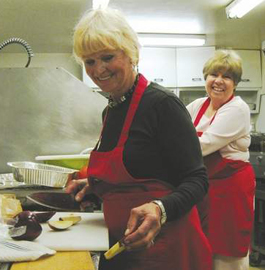 Lake Placid, Fla., Lodge No. 2661
Have Meals, Will Travel
Four years ago, Lake Placid, Fla., Lodge No. 2661 recognized that many seniors in the community lacked access to necessities like food and companionship. So with an Impact Grant, the Lodge started its own chapter of Meals on Wheels in Lake Placid. Five days a week, every week for the past four years, Elks delivered hot, nutritious meals to local seniors in need, and they continue to do so today.
A team of dedicated Elks cooks, packs, and delivers meals to more than 2,000 regular clients. Along the way, Elks discovered it was not just the food that the seniors appreciated; it was the companionship, too.
Elks began spending more time with each client, talking, setting the table, and sometimes even bringing flowers. The Elks drove some clients to doctor's appointments.
"One Elk even rescued a client who had fallen into a diabetic coma," Project Manager Jean Sauve says.
"We appreciate all you do for our mother," writes the family of one client. "She looks forward to seeing the drivers and enjoys the meals. You are doing a great service to this community. God Bless you all."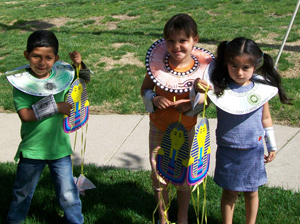 Ashland, Ky., Lodge No. 350
Camp Is Cool
Thanks to the Elks, children in this community have their pick of activities and classes. The Ashland Elks partner with a multitude of community groups to run the COOL Camp Youth Promise Program, ensuring local children have safe places to go when they are not in school.
The COOL Camp caters to children at three of the community's most at-risk schools. It meets one Saturday a month; offers a weeklong camp during fall, Christmas and spring breaks; and has a month-long camp during the summer. Each of these camps offers something to suit each child's tastes. From sewing camp to after-school archery lessons to basketball camp, youth are always engaged in something that interests them.
The camp also runs a community garden, organizes community service projects, and sponsors educational field trips. Last summer's camp featured an around-the-world theme, where children learned about different countries by trying new foods, watching films, visiting museums, and even taking a field trip to a local petting zoo to learn about llamas and their South American habitat.
"One of the most important aspects of our ENF Impact Grant are the relationships we are building between and among our Lodge, our students and their families, schools, and community partners." Project Manager Jim Fitzgerald says. "Together, we strive to foster these children into caring adults, provide safe places, promote good use of time, teach a healthy lifestyle, promote effective education and emphasize serving others."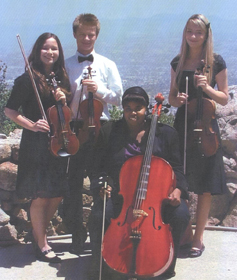 El Cajon, Calif., Lodge No. 1812
The Sound of Success
While not yet near perfect, the sound of children learning to play instruments is music to the ears of Elks at El Cajon, Calif., Lodge No. 1812. The Lodge spent the past four years partnering with the East County Youth Symphony to bring music education to local children. Elks started their project in response to budget cuts in local schools that left children with an interest in music with nowhere to turn.
The Lodge stepped in by volunteering with the symphony, helping with media relations, hosting regular concerts at the Lodge, and providing instruments to children. Lodge members have become adept at seeking out donations of instruments, finding the best used instruments for the lowest price, and bargaining for discounts on new instruments for the young musicians. As a result, they've succeeded in helping more than a hundred local students learn instruments such as the violin, viola, cello, oboe and more.
Meanwhile, the Lodge has become known in the community for supporting the arts and championing youth education. Despite its success, the Lodge does not consider its quest anywhere near done.
"This project will be a success when all children who want a chance to pursue music are afforded one through availability of an instrument and a free program in which to participate," Project Manager Felix Dugger says. "All these young people want is an opportunity."
Still, one can't doubt that the program has been a success, with 120 musicians currently in the East county Youth Symphony, and more joining each month. That's the sound of Elks making a difference.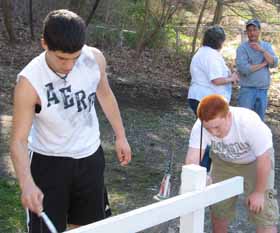 Naugatuck, Conn., Lodge No. 967
The Best and Handiest People on Earth
"As we grow older, we never think about needing help doing jobs on our property," wrote a senior in Naugatuck in a thank-you letter to the Elks. "It happens."
Luckily, Naugatuck, Conn., Lodge No. 967 started the Elks Senior Home Work Project with the goal of helping seniors with simple home maintenance tasks, allowing them to stay in the comfort and security of their own homes.
Since the start of the project, Elks have helped hundreds of seniors do just that. Seniors can apply for help on the Naugatuck Elks website, through the local newspaper, at City Hall, or they can simply call the Lodge for help. Elks are a full-service repair team—they trim hedges, replace batteries in smoke detectors, paint tool sheds, repair faucets, mow lawns and more. And when they can't handle the job themselves, they hire plumbers, electricians and other professionals to do it.
As word of the project spread and new requests arrived each week, the Lodge expanded from one workday a month to five workdays a month, and still there is a waiting list.
"We started out knowing there was a need for a project like this," Project Manager Jim Desmarais says. "We just did not understand how great the need is."
To help with the workload, the Lodge recruited local high school students to help. Grateful seniors often write in to the newspaper to show their appreciation.
"We heard about the program and placed a call to the Elks," write seniors Mary and Joseph Gallager. "That was all it took! Jim and his trusty Elks arrived and worked quickly and quietly. It is comforting to know there are still some people who care. We cannot find words to express our gratitude. It is the true spirit of the Elks!"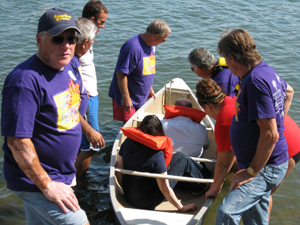 Lockport, N.Y., Lodge No. 41
Happiness Is the Answer
It all started with a question.
When John Ziezula first heard about the new Impact Grants available to Lodges, the member of Lockport, N.Y., Lodge No. 41 went to his Lodge and asked, "Where is the need?"
The answer was simple. The area didn't have a single camp that served people with disabilities.
From that simple question grew Camp Happiness. The Lodge set to work forging partnerships, planning the camp and recruiting volunteers.
That first year, campers attended the aptly named Camp Happiness. They hiked, swam, learned archery, danced, and did so much more. The first camp was so popular that it grew the next year and every year since. Last year, the waiting held more than 400 names.
In 2011, the camp served 152 children and adults with disabilities, from ages 10 to 91 years. Campers spend a week at Camp Kenan on the shores of Lake Ontario. Camp Kenan counselors, YMCA employees and dozens of Elks volunteer their time and energy to make the week a success.
Together, these groups pooled their resources, volunteers and expertise to run a camp that should cost $60,000 on a budget of just $15,000. The thousands of hours of work put into this project results in a week that campers will never forget. The Lodge is still looking for sponsors, but no matter what, the show will go on.
The Elks National Foundation helps Lodges serve their communities in significant and ongoing ways by awarding Impact Grants of up to $10,000. Any Lodge can apply for these competitive grants. To find out more about Impact Grants and the Community Investments Program, visit www.elks.org/enf/community.