Sioux City, IA, Lodge No. 112 knows how to throw a party! The Lodge used its Promise Grant to partner with Siouxland Cares, the local police department, and Long Lines Recreation Center to throw a youth day for more than 300 children!
Twenty-three Elks volunteered at the event, which focused on healthy choices. Elroy and the Elks planned activities with the children, organized sports games, and taught the importance of a drug-free lifestyle.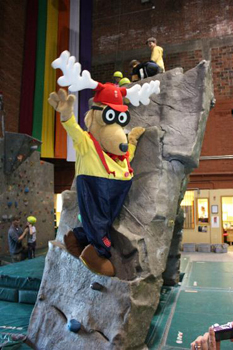 Elks partnered with the police department (and Officer McGruff) to demonstate the dangers of alcohol abuse with fatal vision goggles. Elks also made sure everyone was well fed by providing pizza for all the attendees.
The main attraction of the day was definitely the climbing wall! Children learned climbing techniques and the importance of setting goals and working to reach them. Even Elroy gave the climbing wall a try! Sources report that Officer McGruff did not attempt to climb, though he may have been busy taking a bite out of crime.
In 2011-12, the ENF will award Promise Grants to the first 500 Lodges that pledge to host an event that helps build the character and competence of youth in their community. To find out more about Promise Grants, visit our webpage.
---
Back to top