Arizona Elks Lodges Assist the Navajo Nation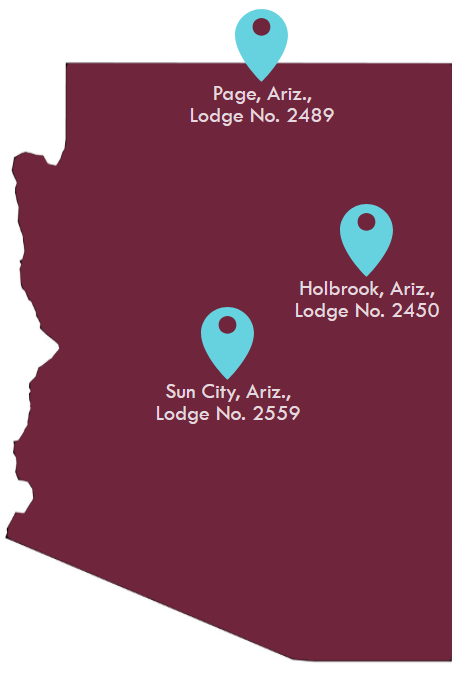 Increased food insecurity, job loss, eviction and mental health crises are just some of the hardships American communities face as they feel the effects of COVID. Some communities, however, have been hit harder than others, like the Navajo Nation, which spans across Arizona, New Mexico and Utah. In May, at the height of the pandemic, one in every 43 Navajo people had contracted COVID-19, making the community one of the hardest hit in the United States.
There are only 13 grocery stores in the entire 27,000-plus square mile Navajo reservation—that is one store per 13,359 people, which makes equitable access to healthy food and clean water incredibly difficult. Three Arizona Lodges understood that the pandemic exacerbated the needs of their Navajo neighbors, and they applied to use CIP Grants to facilitate greater access to food and clean drinking water.
Page, Ariz., Lodge No. 2498 borders the Navajo reservation, and it merged its Spotlight, Gratitude, and Beacon Grants together for a total of $7,500 to fund the creation and distribution of food baskets. Holbrook, Ariz., Lodge No. 2450, which also neighbors the Navajo Nation, decided to use its first-ever Beacon Grant to donate funds to the First Step Workshop and Catholic Charities. First Step Workshop offers training, employment and job supervision of adults with disabilities in Navajo County, and Catholic Charities is specifically working to bring food, shelter and other support to individuals in the Navajo Nation during this time of hardship. Sun City, Ariz., Lodge No. 2559 merged its Spotlight and Beacon Grants to donate water tanks to the Navajo Nation to guarantee access to clean drinking water.
"Inequitable access to drinking water and water for hygiene contributes to the high COVID case rate in the Navajo Nation, and we hope our efforts will have a positive impact," says Bob Jeschke, Grants Coordinator for the Sun City Lodge.
Every American community is facing adversity this year. Because of the increased flexibility with grant guidelines, there is no better time to use CIP grants to lend a h-Elk-ing hand. Applications for CIP grants close on December 31, so please apply today!
---
Back to top