Serving with Porpoise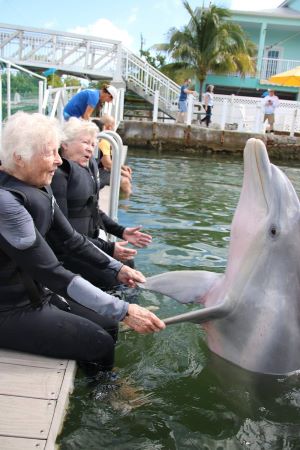 May is Mental Health Awareness Month, but Lodges use Beacon Grants throughout the year to undertake projects dedicated to supporting the mental health of individuals in their communities. From Lancaster, Penn., Lodge No. 134, which uses its Beacon Grant to fund counselors for students in need during their annual back-to-school backpack giveaway, to Ludlow, Mass., Lodge No. 2448, which uses its grant to host an interactive health fair for adults, Lodges across the country have shown that mental health support is a staple to Elks building stronger communities.
Boca Raton, Fla., Lodge No. 2166 takes full advantage of its coastal amenities and uses its Beacon Grant to assist veterans with post-traumatic stress disorder. In addition to hosting meals and events for veterans at their Lodge, the bulk of the grant funds supports dolphin therapy.
Dolphin therapy has proven bene-fish-ial for veterans with PTSD and other mental health issues for a variety of reasons. Between individual sessions with a therapist, workshops on sea life, and of course, time allotted to bond with the dolphins, both the veterans and the Elks who assist with the program report a "sense of calmness" as a direct result of the interactions.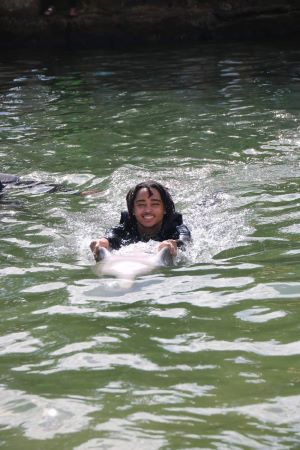 As Grant Coordinator Donna Powers says, "Many of these veterans are suffering from PTSD; some have physical disabilities from action; and others have mental wounds making it difficult for them to cope at times. This program is designed to help them alleviate stress and anxiety through dolphin therapy."
Additionally, since Elk involvement is a staple of the Beacon Grant, after each session, Boca Raton Elk members stay fin-volved by hosting karaoke and dinners at the Lodge for the veterans to keep the festivi-seas going!
The Beacon Grant will likely open August 1, so Lodges have plenty of time to think about how they can use the Beacon Grant—or any CIP grant—to support mental health in their communities. This year, Spotlight Grants will open June 1 and Lodges will have the opportunity to supersize a Beacon Grant with the Spotlight Grant. In this time of uncertainty, mental health support is vital, and Lodges can use ENF grants to provide relief to those in need. Whether that looks like providing veterans PTSD support through similar fin-tastic programs, or using a Spotlight Grant to deliver supplies or funds to local nonprofits directly providing COVID relief, grants are available for Lodges to undertake these necessary projects!
The Elks National Foundation allocated $14.1 million this year to fund the Community Investments Program. Lodges meet local needs through grants that offer Elks opportunities to serve their community in ways that will raise the Lodge's profile, energize the membership, encourage former members to return to the fold, and gain the notice of people who want to be part of an organization that's doing great things. To learn more about the Community Investments Program, please visit elks.org/CIP. If you would like to speak to someone in the CIP office, we can be reached at 773/755-4730.
---
Back to top