Stepping Into Elgin for a Day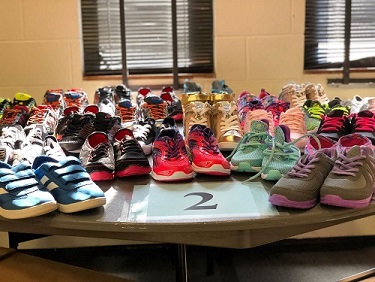 The school year is upon us, and with it comes back-to-school shopping. For some, this means a time of new crayons, clothes, and shoes. But for others, new back-to-school supplies are simply not a reality, as many parents struggle to make ends meet. To alleviate this need, school supplies are sometimes available through schools, and clothes can be passed down from friends or older siblings. Shoes, however, are often too beat up to make it to the new year, meaning that kids either wear too-small or worn out shoes for too long. Five years ago, Elgin, Ill., Lodge No. 737 identified this issue in their community and sprang into action by partnering with Step It Up. The Lodge combines its Beacon and Promise grants to purchase new sneakers for local students in need and host the Step It Up event in early August to meet the kids and give them new sneakers.
In the days leading up to the Step It Up event, Elks work feverishly to purchase shoes, remove the tags and stuffing, and set up for the event. In 2019, the Lodge purchased 1,849 pairs of shoes!
The day of the event, the children and their families flooded the area, ready to be fitted with shoes for the school year. This year, the Elks directed traffic, fitted children for shoes, helped them find their perfect style of colors, bedazzling, and light up features, and sent families home with snazzy new sneakers, drug awareness material, and a spark of excitement for the school year. From start to finish, the Elks did their part to make everyone feel welcomed and dignified, and worked hard to make sure that all the children in the community are ready for the school year.
This year, the Lodge served 1,279 children and their families, ensuring that local children are ready to play with their friends when they return to school. This important need is often overlooked, but the Elks strive to take care of the children in their community.
Elgin member, Greg Huske, says his favorite part of this experience is when the children come out of the building, jumping, running and squealing, asking him, "Do you want to see how high I can jump in my new shoes?" Programs Coordinators Meaghan Morris, Doug Wise, and Katie Graves ventured to Elgin to their first Lodge visit as a team. Elgin is just a short ride away from the Elks National Foundation offices, so the CIP office made the trip to see and experience the grant in action. As for the CIP office, "Our favorite part was seeing the sheer abundance of shoes of all sizes, colors, and designs, and knowing that the shoes will be worn, played in, and loved."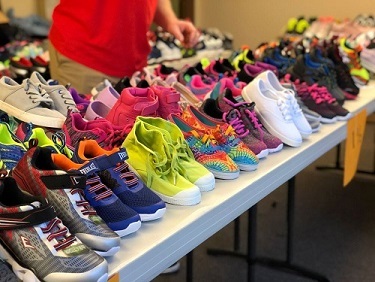 Meaghan reflected on the experience, saying, "Just seeing the myriad of shoes made it easy to imagine the widespread joy they will bring to thousands of children in need". The kind of pure glee that comes from a new pair of shoes before a busy school year is unmatched, and we are proud to support the Elgin Lodge in their hard work securing that kind of joy in their community.
To put shoes on the feet of kids in need in your community—or to help any population in need—consider applying for a Beacon Grant, or, make an even bigger impact by supersizing grant funds by combining the two. Encourage your Lodge to "Step It Up" and submit your grant application today!
The Elks National Foundation allocated $13.7 million this year to fund the Community Investments Program. Lodges meet local needs through grants that offer Elks opportunities to serve their community in ways that will raise the Lodge's profile, energize the membership, encourage former members to return to the fold, and gain the notice of people who want to be part of an organization that's doing great things. To learn more about the Community Investments Program, please visit elks.org/CIP.
---
Back to top