Summer Fun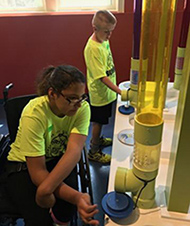 Summer may be winding down but Kewanee, Ill., Lodge No. 724 made the most of it for local youth in need by supporting the Kewanee Park District's Day Camps. During the summer, low-income students are often the most disproportionately affected by the cost of summer programs.In Kewanee 85%-90% of students come from low-income households. For working parents that can't afford summer camps, summer break becomes an additional stressor. Luckily, the Elks were there with a Beacon Grant to provide enrichment activities to fill the gap while fostering lifelong skills, new friendships, and vivid memories.
The Lodge supports the camp by covering the costs of registration fees for children with disabilities, sponsoring three field trips, and providing lunch. Elks started by working with the camp director to plan three separate fun-filled outings. After the initial meeting, Lodge members were in charge of purchasing tickets and securing transportation.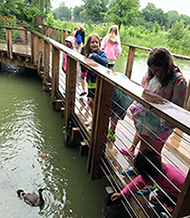 After each full morning of fun and learning at the Putnam Museum, Peoria Playhouse, and the Niabi Zoo the kids were served delicious and nutritious lunches by Lodge members!
When asked about the event, Project Manager Linda Duytschaver exclaimed, "It was a great success! The children were so happy and thankful. What a great way to create public knowledge of our volunteerism."
Through Beacon Grants, the Elks National Foundation gives Lodges the opportunity to develop an ongoing, charitable, Elks-driven community project. These $2,000 grants are available to all Lodges. To find out more about Beacon Grants and the Community Investments Program, visit enf.elks.org/BeaconGrant.
---
Back to top