History Repeats Itself: Another Record Breaking Year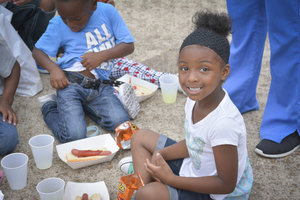 The Elks National Foundation is pleased to announce that all Promise Grants have been awarded for the 2018-19 year. The Community Investments Program experienced another record-breaking Promise Grant year, having reached the 500 approved grants milestone on August 24--one day earlier than last year!
"Lodges have remained resolute in their commitment to America's youth," said Debbie Kahler Doles, ENF Assistant Director. "Our goal is to help Lodges be more strategic and thoughtful in their charitable projects, and achieve their vision for making their communities a better place."
Check out some of the exciting projects taking place this grant year.
Portsmouth, N.H., Lodge No. 97 will continue to partner with Chase Home for Children, a restorative residential and family services agency. The facility is in need of an area for children to meet with their families as ordered by the court system. To accomplish this goal, an area has been designated in the basement of the building. With the assistance of youth residents, members will paint, select furniture, and arrange the room to encourage bonding as children prepare to return home to their families.

Milwaukie-Portland, Ore., Lodge No. 142 knows the importance of childhood activity in preventing obesity, developing agility, strengthening social skills and stimulating the mind. With this knowledge, the Lodge will enhance the playground at a multilingual elementary school by purchasing playground games and equipment. In addition to furnishing balls, jump ropes and sidewalk chalk, the Lodge will install a Kelso Wheel, a conflict management tool to assist students in resolving their own playground disputes. Following the installation of new playground games, the Lodge will hold a Family Fun Day to introduce students to their new playground.

Gallipolis, Ohio, Lodge No. 107 created the Gallipolis Elks Youth Football League after receiving funds from the 2015-16 Promise Grant. Continuing with the success of this project from past grants, the league has expanded to include children from Kindergarten through 6th grade, with approximately 220 children participating in football or cheerleading. The Lodge provides all football equipment, uniforms, transportation, coaching, and other necessities for the children. The season starts in August with a free two-day football camp at the Gallipolis Memorial Field, followed by several weekend games that conclude in mid-November.
These grants will prove invaluable in providing leadership development and enrichment projects for youth across the nation. Thank you for investing in youth, which, in time, improves our communities.
Elks are committed to America's future. To build the character and competence of local youth, the Elks National Foundation awards $2,500 Promise Grants to the first 500 Lodges that pledge to host an eligible youth event. To find out more about Promise Grants and the Community Investments Program, visit www.elks.org/enf/PromiseGrant.
---
Back to top