Enjoying a Day of Fun in the Sun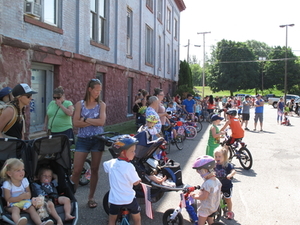 Imagine this. Hundreds of children riding bikes on the plaza, warming in the sun and playing for hours. Why, you ask? Because it's Kids Day!
Hosted by Negaunee, Mich., Lodge No. 1116, the event serves as a way to introduce people to organizations offering services to the community. Big Brothers and Big Sisters of Marquette and Alger County, Marquette County Health Department, the Marquette Catholic Credit Union and the local DARE program were among the agencies that spoke during the event.
To garner a large crowd, the Lodge kicked off the event with a bike parade. More than 130 children decorated their bikes or strollers for the contest. Participants were judged and all received a ribbon for participating. This year's event also included live entertainment, free food and drinks, contests, games, and giveaways.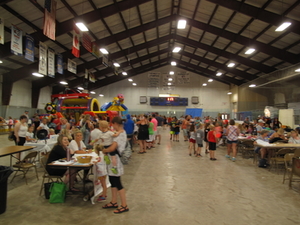 More than 60 Elks volunteered to pull off a successful event including helping set-up, coordinating logistics, managing games, serving food and awarding prizes. To encourage community service among youth, the Lodge recruited 20 high schoolers from the local school basketball team and honor society to assist in managing game booths and bouncy houses.
Peter Gadzinski, Grants Coordinator for the Lodge, was extremely excited about receiving a Promise Grant for this event.
"Everyone in Negaunee and the surrounding towns knows about what the Negaunee Elks do on Kids Day," says Gadzinski. "More important, is that our members, by partaking in the program, feel good about being an Elk and are willing to volunteer for other events."
Active grant projects are a great way to get the community to notice the Elks. "Our members are proud of the project and are looking to add more ways to improve it and reach out to those in need," says Gadzinski. "The key to gaining members has always been to do something good in the community."
Elks are committed to America's future. To build the character and competence of local youth, the Elks National Foundation awards $2,500 Promise Grants to the first 500 Lodges that pledge to host an eligible youth event. To find out more about Promise Grants and the Community Investments Program, visit www.elks.org/enf/PromiseGrant.
---
Back to top