Orange Elks Deliver on Reading Promise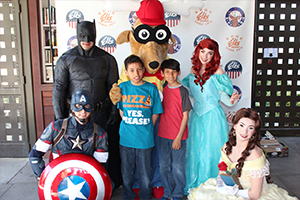 In the endless pursuit of encouraging kids to read good books, Orange, Calif., Lodge No. 1475 has started The Reading Promise! Using an Impact Grant, the Lodge hosts events throughout the year that instill a love for reading in students from the community.
The Reading Promise! events are attended by elementary students and families from schools that are designated for at-risk, low-income children.
"The Reading Promise! opens them up to a world of escape, magic and joy, while also planting the seed of reading enjoyment that can last a lifetime," says Project Manager Trace Weatherford.
Since the program began in 2016, more than 1,000 books have been distributed to kids and families, and more than 1,000 participants have been involved with the program either by volunteering or attending.
"This esteemed Elks program ensures that our local school children are supported by the City of Orange and its nonprofit organizations," says Keisha Loidolt, Orange Public Library and History Center librarian. "The families are grateful for the much-needed support, and we hope it continues far into the future."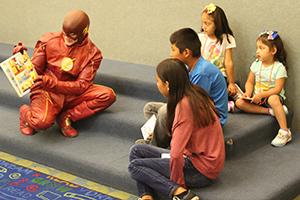 Several months of planning go into hosting each event. Approximately 49 Elks volunteers meet bimonthly, many dedicating up to 70 hours of their time to collecting school supplies, books and donations in the months leading up to each event.
Then, on the Saturday of the event, they take an inventory of the supplies, count books, and stuff and sort backpacks. On Sunday, the tireless hours of labor Elks spend on organizing the event come to fruition. Lodge members spend the day interacting with children and community members, reading to the kids and distributing food and snacks. Elks also dress up as characters, like Batman and Elsa, and walk around to take photos with every kid.
"The Reading Promise! at its very core is about the books, but we differ from other reading and literacy programs because we believe that by presenting books and reading in a fun, interactive environment to kids at a young age, that they find it more enjoyable," says Weatherford.
The proof is in the studies, which have shown that increased reading skills are a proven link to a social and professional success. Not only does the Lodge want the children to read, but they want to provide tools to help them excel in the classroom. In addition to distributing books and supplies, they encourage the students to sign up for library cards.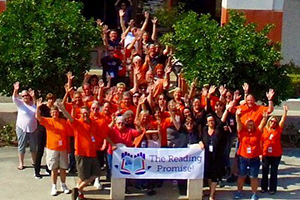 Getting kids to sign up for library cards was easy at the Lodge's most recent event, which was held at Orange Public Library. According to the library's director, it was the largest attended, child-focused event in the library's history—with over 500 attendees.
"The fact that we served more kids and families than ever before is proof that this program is working," says Weatherford. "We are significantly moving the needle in how the Elks are perceived by making a real impact for disadvantaged kids in the community."
The Elks National Foundation helps Lodges serve their communities in significant and ongoing ways by awarding Impact Grants of up to $10,000. To find out more about Impact Grants and the Community Investments Program, visit enf.elks.org/ImpactGrants.
---
Back to top