Dover Elks Dive Headfirst to Help Local Shelters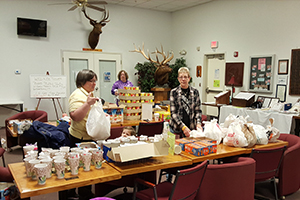 There might be a try in Dover Elks Pantry, but for the Elks volunteers who keeping it running, there's only do. Each week, roughly 20 Elks from Dover, Del., Lodge No. 1903 wear their Elks Pantry t-shirts proudly as they rally together to set up, stock and share food with the Dover community. The Dover Elks Pantry is supported by an Impact Grant.
In addition to the pantry, the Lodge has provided other needs voiced by people experiencing homelessness like work boots, clothing and hygienic products, and first-aid kits. The Lodge hosts weekly giveaway days for these items as well as meals, and they typically serve around 400 community members.
"We are aiming to increase trust between our pantry and the people we serve, and to increase community awareness and compassion for the homeless," says Project Manager Yvonne Biddle Heisler.
In the long term, the Lodge hopes to encourage the community to support people experiencing homelessness and help them utilize their resources. To gain exposure for the pantry and reach that goal, the Lodge has partnered with Code Purple Kent County, a nonprofit that opens shelters when temperatures drop below freezing. When Code Purple contacts the Lodge for assistance, Elks answer the call to cook, deliver and serve hot meals to hundreds of people at the Code Purple shelters.
"Code Purple would not be able to handle all these needs without the support of the Dover Elks," says Rebecca Martin, Director of Code Purple Kent County.
Thanks to assistance from the Dover Elks Pantry and volunteers, Code Purple has continued assisting the needs of the community through the spring, summer and fall, as well. The Lodge's passion continues to fuel their drive to uplift those experiencing homelessness and show them that Elks care, which they've also shown by bringing people in the community to work at the Lodge.
Last winter, the Elks met a man at a Code Purple Sanctuary. They knew he had experience as a cook in the Navy, so they asked if he would be interested in working as a cook for the Lodge.
"He was extremely excited, and the Lodge was equally impressed," Heisler says.
The Lodge purchased work shoes for him using the Impact Grant, and the rest is history.
"We are humbled that our Elks Pantry has touched the lives of so many people in need in our community," Heisler says.
The Elks National Foundation helps Lodges serve their communities in significant and ongoing ways by awarding Impact Grants of up to $10,000. To find out more about Impact Grants and the Community Investments Program, visit enf.elks.org/ImpactGrants.
---
Back to top