In preparation of warmer weather and busier streets, it is important to remember the rules of the road and practice bike safety. To remind students of the importance of following bicycle laws, members of Dover, Del., Lodge No. 1903 organized a bicycle rodeo in partnership with local bicycle shop Bike Line, Dover Police Department, Dover Parks, and Kent County Metropolitan Planning Organization.
"The bike rodeo is a way to bring community organizations together and a way to provide bicycle safety lessons for youth in our community" says Grants Coordinator Andrea Maucher.
The day of the event, children eagerly waited in the Lodge's parking lot to show off their skills. During the rodeo, students wheeled through courses with intersections, traffic signs, and crosswalks.
"We tried to create as many simulated experiences that cyclists could possibly encounter to stress the importance of helmet usage, hand signals and obeying traffic regulations," says Maucher.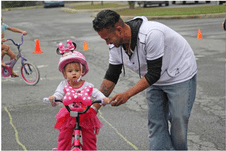 With the help of a Gratitude Grant, the Lodge was able to purchase 15 bicycles, helmets, lights, and locks. The Lodge reached out to the Boys and Girls Club and the City of Dover's after school programs to pre-identify seven children in need to receive a complete bicycle set.
To add to the fun, the police department brought loaner bicycles and distributed free helmets for children who came without them. Children who brought their own bicycles received a free tune-up from Bike Line, along with instructions on keeping their ride maintained. Handouts on bicycle safety and rules of the road were available for parents. Elks volunteers assigned to the course provided guidance to cyclists. The Lodge also used the family-friendly event as an opportunity to make Elks Drug Awareness Program materials available to parents and children.
And just when the children thought the bike riding fun was all the event had in store, the Dover Police brought out a prize wheel for children to have a chance to win prizes, including the remaining six loaner bicycles. By the end of the event, there was no doubt that the Lodge, with the help of partner organizations, was able to make a meaningful impact on the community. More than 40 children signed up to ride on the bike safety course, and at least 10 more came to watch and cheer on siblings. Children in need went home with new bicycles and everyone went home with a stronger understanding of bicycle care and safety. The Lodge looks forward to expanding the bike rodeo next year.
The Elks National Foundation helps Lodges serve their communities by offering $2,000 Gratitude Grants. Lodges are eligible to apply for Gratitude Grants after meeting the National President's per-member goal for giving to the Foundation. In addition, Lodges that exceed 15 percent membership support last year may be eligible for a $500 bonus. To find out more about Gratitude Grants and the Community Investments Program, visit enf.elks.org/GratitudeGrants