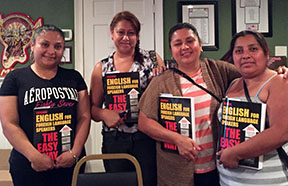 New year—new language! Or, at least, that's the motto at Manasquan, N.J., Lodge No. 2534, where the Lodge got together to identify a growing need for English as a Second Language(ESL) courses for Spanish speaking adults in its community. The Lodge wanted to be seen as a welcoming place for everyone, including those with little to no English language skills.
After recognizing the need for their Beacon Grant project, members went straight to work on identifying students. They worked with local schools, food banks, churches, and local Spanish businesses to reach out to would-be-learners. Once students were identified, the classes were held at the Lodge with Elks as teachers and conversationalists.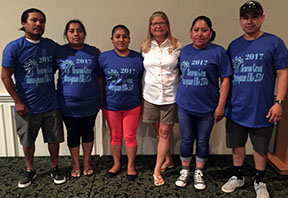 "We have many local Spanish speaking adults who want to learn English. We believe these classes will help them in the job market and to assist their children with school-work.", Grants Coordinator, Melissa Colvin says.
And, teach they did! Classes were so well-received that dates were extended an extra month to better serve learners. Each session, the number of people in attendance seemed to grow as does the number of people with an interest in the course. Students continue to express their gratitude and the Lodge continues to be proud of directly impacting its community! Beacon Grant applications close March 31, 2018—apply for a project so serve your community's needs, today.
Through Beacon Grants, the Elks National Foundation gives Lodges the opportunity to develop an ongoing, charitable, Elks-driven community project. These $2,000 grants are available to all Lodges. To find out more about Beacon Grants and the Community Investments Program, visit enf.elks.org/BeaconGrants.