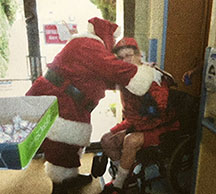 It's the happ-happiest season of all! Houses are covered in lights, fires are burning bright, trees are trimmed, and friends and families are gathered together all in the name of Christmas cheer! As undeniably happy as it may be, it can also be an isolating time of year for those who are unable to celebrate with loved ones.
While the residents of the veteran's hospice and homeless units may not be able to enjoy the holiday at home with their families, the #ElksFamily from the Redondo Beach Calif., Lodge No. 1378 makes sure to stop by for a visit. Santa and sleigh attended the event, too. (See right for photos of Santa. Reindeer & sleigh not included—reindeer aren't permitted on hospital premises, of course.)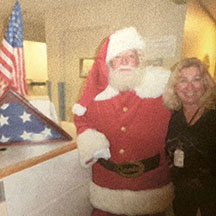 The Lodge used a Freedom Grant to host a holiday party at the Long Beach V.A. Hospital. The fête included lunch, games, a walk to the beach, and personal gift deliveries of socks, undergarments, and toiletries from Santa to each resident's room.
"By the members interacting with the vets it gives them the knowledge that someone cares about them and their welfare," remarked Project Coordinator, Linda Lee.
With a total of 31 Elks volunteering at the event, the veterans heard the message loud and clear. On top of the gift of warm feelings members felt from serving—the Lodge was also gifted two new members from the event!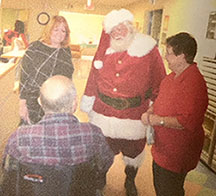 It's safe to say that at the end of the day, everyone walked away thinking it is indeed the happiest season of all.
The Elks National Foundation allocated $12.53 million this year to fund the Community Investments Program. Lodges meet local needs through Beacon, Gratitude, Promise, Anniversary and Impact Grants. These grants offer Lodges opportunities to serve the community in ways that will raise the Lodge's profile, energize the membership, encourage former members to return to the fold, and gain the notice of people who want to be part of an organization that's doing great things. To learn more about the Community Investments Program, please visit elks.org/CIP.