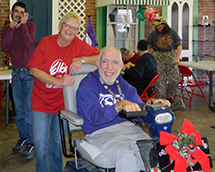 Clay Center, Kan., Lodge No. 2253 set a lofty goal for their first Beacon Grant project—the Lodge committed to creating lasting Christmas memories for clients of the Big Lakes Development Center, a non-profit organization serving individuals with developmental disabilities. Four years and $12,000 later, the Clay Center Lodge has consistently and efficaciously reached that goal each December.
In preparation for the festivities, the Lodge receives a Christmas wish list from each client. On the day of the party, the Common Ground Community Center is decked out in Christmas cheer! Everyone gets presents from their wish list, pizza and desserts. The day is rounded out with some fun holiday games and a Christmas movie.
"The clients at Big Lakes talk about our events all of the time," says Project Manager Patricia Halstead.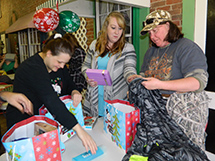 "The Elks involvement with Christmas for Big Lakes is about so much more than promoting Elks activities—it's about making memories for the clients, staff and volunteers."
Sometimes it's hard to quantify the impact of an event like this one—where one might see an ordinary Christmas party, clients of Big Lakes see their only opportunity for a Christmas present and to experience fellowship with old and new friends. That can mean the world to someone whose opportunities are so few and far between, especially during the holiday season.
Through Beacon Grants, the Elks National Foundation gives Lodges the opportunity to develop an ongoing, charitable, Elks-driven community project. These $2,000 grants are available to all Lodges. To find out more about Beacon Grants and the Community Investments Program, visit enf.elks.org/BeaconGrants