Biloxi, Miss., Lodge No. 606, did not let bad weather get in the way of serving veterans in need. The Lodge originally scheduled to use its Beacon Grant to host an outdoor cookout for veterans at the Biloxi Veterans Affairs Recreation Center but Mother Nature had others plans. Despite inclement weather, Elks rose to the challenge and quickly switched venues to ensure continuation of the highly anticipated event.
According to Grant Coordinator John D. Vanek, "They [veterans] were talking about this event during our Thanksgiving dinner and said that they were really looking forward to this event again in 2017." With the energy and perseverance of 30 committed members, the Lodge was able to pull off a fantastic event for 82 veterans and 50 V.A. staff members.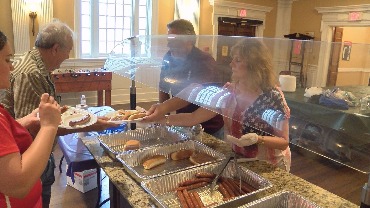 In addition to hosting a nice spread consisting of potatoes, baked beans, and sausage, the Lodge issued canteen chip books for veterans to purchase hygiene items. Clothing was also given to V.A. counselors to distribute to veterans in need.
"We really have to appreciate what veterans have done for us," Vanek says. "As a Marine Corps veteran myself, I have enormous respect for those who serve our country. I look forward to helping my brother and sister veterans. They appreciate everything the Elks do for them and we appreciate everything they have done for us."
Veterans like Daniel Dresser are grateful for the work Elks do in the community, especially on behalf of veterans in need. "It feels great to be appreciated," says Dresser. "The Biloxi Elks is doing an outstanding job giving back to homeless veterans."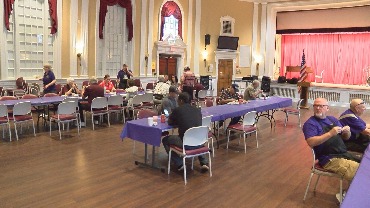 In addition to boosting morale and showing appreciation for veterans, the Biloxi Lodge seeks to create a safe community in which veterans can connect and share memories. The Lodge continues its commitment to serving veterans by hosting a Thanksgiving dinner at the V.A. as well as monthly events.
"As long as there are veterans, the Elks will never forget them," says Vanek. "They enjoy it. Every time they know we're out here, they love it. They love us coming out here and we love coming out and doing it."
Interested in organizing a charitable project to better the lives of veterans in need? Consider using an Anniversary Grant, Beacon Grant, or Gratitude Grant to serve veterans in your community today!
The Elks National Foundation allocated $12.53 million this year to fund the Community Investments Program. Lodges meet local needs through Beacon, Gratitude, Promise and Impact Grants. These grants offer Lodges opportunities to serve the community in ways that will raise the Lodge's profile, energize the membership, encourage former members to return to the fold, and gain the notice of people who want to be part of an organization that's doing great things. To learn more about the Community Investments Program, please visit elks.org/CIP.