BOO! Happy Halloween! The only thing more startling than that intro is how spooktacularly our Lodges have used CIP grants to host engaging, educational and charitable Halloween events! The proof is in the pumpkin so keep reading for a few tales from the crypt—if you dare!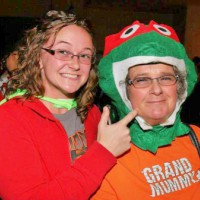 No Safety Scares Here
Pawhuska, Okla., Lodge No. 2542 used its Promise Grant to host a Halloween party for local youth in need. They worked with Osage Nation Boys and Girls Club, the Osage and Pawhuska Head Start Program and the HELP organization, which serves children with disabilities. Nearly 500 kids and their families attended the evening full of food, games and contests.
While it was a scary good time, the project was created to keep children off the streets and give them a spookily safe atmosphere for fun. In addition to members being on hand to distribute drug awareness materials and answer questions, two local police officers also joined to discuss the importance of safe choices.
Trunks for Treats
Catskill, N.Y., Lodge No. 1341 held their 2nd annual Promise Grant project, "Trunks for Treats" for children living in foster care and low-income housing and for children from a local school for children with disabilities. This ghoulishly good time including a magic show, face painting, crafts, games, and healthy refreshments. The highlight of this Halloween hoopla was that members turned the trunks of their cars into eerie—yet cheery—spaces to hand out nutritious snacks and treats!
The frightful fun also included a haunted hayride that transported children around the grounds of the Lodge to a haunted house! In addition, the Lodge provided handouts on safety, drug awareness and bullying. And, the local sheriff's department provided car-seat safety checks. All unsafe seats were replaced for free! Parents were so thankful for a safe place to enjoy Halloween that three parents joined the Lodge!
Continue the Scare Throughout the Year
If you're looking for ways to create safe and healthy spaces for your local youth throughout the year, consider these examples as a starting point on how your Lodge can get involved. While Halloween and other holidays may seem like the only opportunities to engage local youth, they're often more in need of fun, safe spaces outside of holidays. Or, if your Lodge has already hosted a Halloween event, you can continue to do good by donating leftover candy to Operation Gratitude or Soldiers' Angels.
The Elks National Foundation allocated $12.53 million this year to fund the Community Investments Program. Lodges meet local needs through Beacon, Gratitude, Promise, Anniversary and Impact Grants. These grants offer Lodges opportunities to serve the community in ways that will raise the Lodge's profile, energize the membership, encourage former members to return to the fold, and gain the notice of people who want to be part of an organization that's doing great things. To learn more about the Community Investments Program, please visit elks.org/CIP.