For the state of Oregon, suicide is a pressing community issue. While suicide is a preventable public health problem, Oregon sadly continues to rank among the top states for youth suicide, with this number steadily increasing since 2011. In 2015, the State Health Department identified suicide prevention as one of Oregon's top health priorities. In response, Ashland, Ore., Lodge No. 944 decided to tackle this problem by using a Gratitude Grant to reach youth aged 10 through 24—the earliest ages in which suicide begins to occur.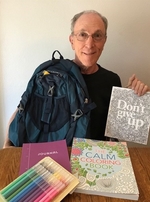 Lodge members met with the local county youth suicide prevention coordinator, social workers, and counselors working with at-risk youth throughout Jackson County. They collaborated with staff at the Phoenix Counseling Center and Armadillo Technical Institute to provide two workshops entitled "Strategies for Success". The workshops were patterned after a successful curriculum used with veterans returning from Iraq and Afghanistan with traumatic brain injury, depression, PTSD or a history of suicide attempts.
The Lodge hosted thirty-two middle and high school students for a series of workshops. Participants learned how to write personal mission statements and were given several laminated copies of their individualized mission statements to keep in their backpacks and wallets. Students were taught skills to overcome obstacles and difficult choices in addition to simple stress and anxiety reduction strategies.
As a parting token to encourage participants to continue to prioritize mental health, each student received a backpack, journal, colored pencils and mindfulness coloring books. Research has shown that coloring has similar therapeutic effects on the brain as meditation, helping to reduce anxiety and stress levels. The back packs also included numerous items imprinted with crisis line phone numbers in case students needed additional support or knew peers in need.
Students expressed enthusiasm and appreciation as evidenced by written comments:
"I really felt positive writing it. I will remind myself that I created it. I really believe in myself today."

"I learned that I have a reason to live."

"Coloring the project when I was angry made me calm down faster. I will use this strategy whenever I get mad so I can calm down."

"I had a lot of fun coloring it and was able to focus on only the project when I was working on it. While working on it I was able to contemplate all of the hardships happening in my life right now and reflect on them. Whenever I need to stop and reflect I can pull out my coloring book."
In addition to the workshops, the Lodge provided calming coloring workbooks, colored pens and pencils and numerous art supplies to Armadillo Technical Institute, Phoenix Counseling Adolescent Treatment Group, the Rose Circle Mentoring Group and the Ashland High School Wellness Center.
The Gratitude Grant funding not only impacted the lives of area youth at risk for suicide, it increased awareness of the Elk's mission to positively impact the community among local schools and mental health professionals. The success of this project has inspired Ashland, Ore., Lodge No. 944 to reapply for funding in the 2017-18 grant year and expand the number of youth served.
The Elks National Foundation helps Lodges serve their communities by offering $2,000 Gratitude Grants. Lodges are eligible to apply for Gratitude Grants after meeting the National President's per-member goal for giving to the Foundation. In addition, Lodges that exceed 15 percent membership support last year may be eligible for a $500 bonus. To find out more about Gratitude Grants and the Community Investments Program, visit enf.elks.org/GratitudeGrants