All it takes to succeed with the CIP is some brain power, a team of Elks, and maybe even getting your hands a little dirty—literally! With the help of a Beacon Grant, Sandpoint, Idaho, Lodge No. 1376 has been able to create a flourishing edible garden program for local elementary schools.
Beacon Grants are intended for Lodges to start a new, ongoing project, which is exactly how the Sandpoint project was launched in 2014.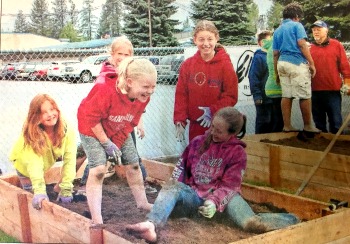 "For the last four years, the Elks have taken a leadership role in this project. They provide grant funds, and build the garden beds," remarked Michele Murphree, the community member who sparked this initiative. "They're an amazing group of individuals."
Elk volunteers purchase materials and build the garden beds from scratch, including an irrigation system. This year, members built five raised garden beds for the last elementary school in their community without one.
The best part about this project is that it not only benefits the students, but it engages them in building and filling the garden beds. It's a great opportunity for the Lodge to get one-on-one time with local youth. Beyond building the beds, members are on hand throughout the year to help with tending the gardens. While it seems like all fun and games, it provides health education, lessons on water conservation, and access to fresh fruits and vegetables for students who may not have regular access to such healthy items.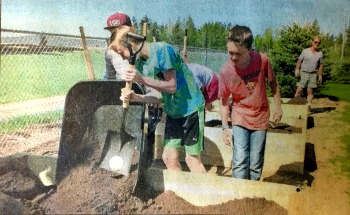 "And then it translates into the kids starting gardens at home," said Murphree, "There is a significant hunger problem in this county and many other counties, so I think this is a step, at least, in the right direction."
A step in the right direction indeed—something as simple as building a garden bed for local youth can have a significant impact on hunger and health issues in your community. Consider what issues exist in your Lodge community and how the Lodge can use the power of Elkdom to grow seeds of change locally!
Through Beacon Grants, the Elks National Foundation gives Lodges the opportunity to develop an ongoing, charitable, Elks-driven community project. These $2,000 grants are available to all Lodges. To find out more about Beacon Grants and the Community Investments Program, visit enf.elks.org/BeaconGrants