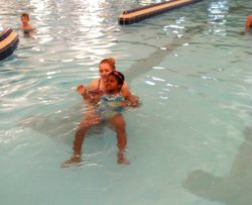 As the weather gets warmer, many people turn to water sports as a way to cool off. While water play is considered an all-inclusive activity and a great way for children to develop gross motor and cognitive skills, there is an increased risk of drowning for children born with physical or intellectual disabilities.
After meeting with the director of Parks and Recreation and realizing the lack of recreational activities available to people with disabilities, St. George Dixie, Utah, Lodge No. 1743 decided to partner with the city to create the Flying Fish program. Now in its third year, the Flying Fish program is held at the local aquatic center January through October and provides children and adults with disabilities access to quality recreational programming while building necessary physical, social, communication and life skills.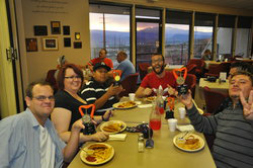 The program is personalized to the needs of each participant. With guidance from Sand Hollow Aquatic Center's lifeguards, Elks instruct participants in swimming skills such as floating, backstroke, and freestyle. Upon conclusion of the course, some of the students go on to participate in the Special Olympics. To celebrate completing the program, the Lodge hosts an awards ceremony in which participants are treated to barbecue served by local Boy Scout Troop 509.
Is there a need in your community that the Elks can address? What charitable need could your Lodge use a Gratitude Grant to support? If you aren't sure where to start, take a look at the Gratitude Grant section of our CIP Field Guide at enf.elks.org/cipresources, or our new Gratitude Instagrants, which can be found at enf.elks.org/GratitudeGrants. The 2016-17 Gratitude Grant deadline is May 31, 2017, so apply today!
The Elks National Foundation helps Lodges serve their communities by offering $2,000 Gratitude Grants. Lodges are eligible to apply for Gratitude Grants after meeting the National President's per-member goal for giving to the Foundation. In addition, Lodges that exceed 15 percent membership support last year may be eligible for a $500 bonus. To find out more about Gratitude Grants and the Community Investments Program, visit www.elks.org/enf/community.