Get to know your community and its needs. Community needs affect a wide range of community members such as families, youth, seniors, veterans, parents, schools or nonprofit organizations. Identify a community need that your project will help (e.g. neighborhood improvement, hunger or domestic abuse). Next, identify potential community partners that can amplify the impact of the Lodge's project.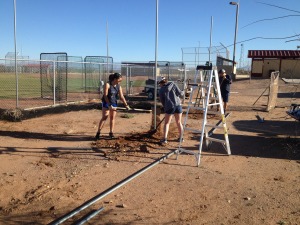 Sahuarita High School was unable to purchase more equipment for the La Familia softball team, a program for at-risk girls, after the team's batting cage had been vandalized. Recognizing the importance of continuing this program, Sahuarita, Ariz., Lodge No. 2851 decided to use its Gratitude Grant to purchase new equipment. Elks and La Familia team members worked together to rebuild the batting cage and repair the dugout. Now the coaches can train the girls in softball technique.
Submit your application early.
Already met the GER's per-member-giving goal? Wonderful! You can apply for the Gratitude Grant right
NOW
. While May 31, 2017 seems far away, the deadline will come before you know it. Apply early to reduce the stress of submitting a last-minute application. One benefit of applying early is that it allows the CIP office time to assist the Lodge in strengthening its project. Looking for a sample application for ideas? Check out Hillsboro, Ore., Lodge No. 1862's most recent Gratitude Grant application.
Spread the word.
It is never too soon to start sharing information about your event. Start spreading the word about your Lodge's grant project several weeks in advance. Contact local media outlets, such as local television stations and newspapers. For example, Warrington, Fla., Lodge No. 2108 worked with ABC3 to publicize its "Tools for Teachers" program which provides free school supplies to local teachers.
Click here to view the video and article
about the Lodge's Gratitude Grant project.
The Elks National Foundation helps Lodges serve their communities by offering $2,000 Gratitude Grants. Lodges are eligible to apply for Gratitude Grants after meeting the National President's per-member goal for giving to the Foundation. In addition, Lodges that exceed 15 percent membership support last year may be eligible for a $500 bonus. To find out more about Gratitude Grants and the Community Investments Program, visit www.elks.org/enf/cip.