While Thanksgiving is often associated with American favorites such as turkey, stuffing, and macaroni and cheese, Thanksgiving is more than a meal—it's a state of mind. One of the best ways we can express our thankfulness is by giving back to others in need. Here are a few ways that Lodges across the country are using Gratitude Grants to give thanks.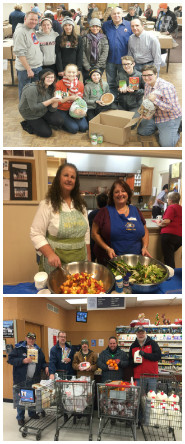 Elmhurst, Ill., Lodge No. 1531 assembles 175 food boxes during its annual Thanksgiving dinner project. The Lodge partners with three local police departments to deliver the food to families in need.




Putnam, Conn., Lodge No. 574 partners with the Community Café, an organization that serves meals to families in need of assistance. The Lodge preps, cooks, and serves a traditional Thanksgiving meal for more than 50 members of the community.




Brookfield, Ill., Lodge No. 1510 distributes coats to children lacking winter outerwear. In addition to providing coats, the Lodge provides Thanksgiving food baskets for the children's families.




The Elks National Foundation allocated $9.8 million this year to fund the Community Investments Program. Lodges meet local needs through Beacon, Gratitude, Promise and Impact Grants. These grants offer Lodges opportunities to serve the community in ways that will raise the Lodge's profile, energize the membership, encourage former members to return to the fold, and gain the notice of people who want to be part of an organization that's doing great things. To learn more about the Community Investments Program, please visit elks.org/CIP.
---
Back to top