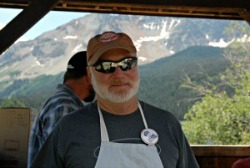 Since 2014, Telluride, Colo., Lodge No. 692 has used a Beacon Grant to partner with a local mentoring program to provide a day of fresh air fun for local children. The Lodge takes advantage of beautiful surroundings, including scenic mountain views and a fresh water lake. All this nature allows the mentors, mentees and their family to hike, fish, and stand-up paddleboard.
Elks planned the activities for the day, purchased and cooked meals, bought fishing poles and tackle, and made sure the area was clean when they left. Though this is a big responsibility for the Lodge, members don't see it that way.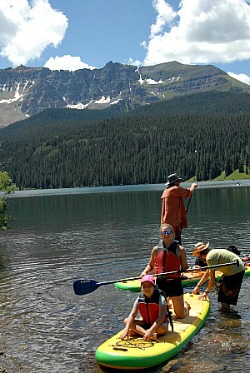 "This is one of our Lodge's and community's favorite projects," says Project Manager Cynthia Wyzynski, "Every year we see more members getting involved in it, and more community members aware of the great things we're doing."
Though the Lodge is located in a picturesque community, not all families are able to afford outdoor activities. Water sports and hiking in mountainous terrain require specialized equipment and skills, which is why the Lodge saw this as an opportunity to help the families engage in healthy activities, relax, and bond with one another over a great shared experience.
What local resources exist in your community? What charitable need could most benefit from a $2,000 Beacon Grant? If these questions spark an idea for a local project—there's great news, Beacon Grant applications are available until March 31 2017! If you have an idea but aren't sure it fits the guidelines, take a look at the Beacon Grant section of our CIP Field Guide at enf.elks.org/cipresources. Then, apply for a Beacon Grant!
Through Beacon Grants, the Elks National Foundation gives Lodges the opportunity to develop an ongoing, charitable, Elks-driven community project. These $2,000 grants are available to all Lodges. To find out more about Beacon Grants and the Community Investments Program, visit enf.elks.org/BeaconGrants.